Local youth as Vaccine Buddies convince rural communities to overcome vaccine hesitancy
Story
By Chandrika Patnaik
25 April 2022
A team of Tika Sathis or Vaccine Buddies collect information on local vaccination levels, spread awareness on the benefits of vaccination in their local dialects and mobilise the community to receive vaccines.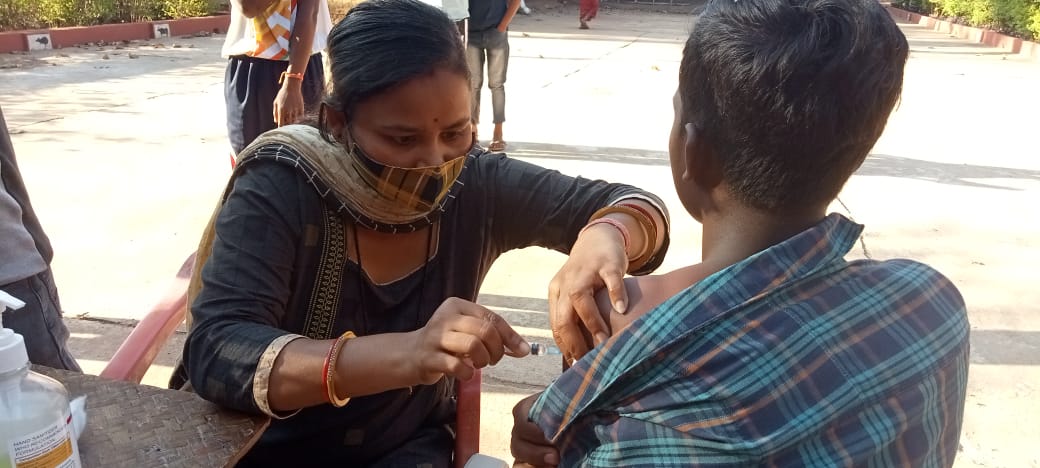 Children receiving the COVID-19 vaccine.
Photograph from Gram Vikas archive
As the second wave of COVID-19 ripped through rural Odisha, ASHA workers faced a gruelling battle. Their door to door visits convincing rural communities to get a COVID-19 vaccine were met with hesitancy and often hostility as rumours and misinformation ran rife.
Champa Majhi, 34, an ASHA worker for the past seven years from Kumudabahal village in Kalahandi says, "Initially, getting people to register was very difficult. Residents would not listen to me. Rather they would call me an agent of the Government. I made several attempts to call a meeting but no one listened to me. Nor would they turn up for meetings. When the Tika Sathis (Vaccination Buddies) of Gram Vikas, started mobilising people in their homes, the response was quite encouraging. I too started making door to door visits with them to motivate people to take the vaccine."
Azim Premji Foundation (APF) and Gram Vikas partnered to roll out the COVID-19 vaccine in remote and hilly areas of Kalahandi and Gajapati districts of Odisha. The endeavour supports government efforts to ensure full vaccination across the country.
The APF supported programme aims for 100% COVID-19 vaccination of all eligible individuals in the 18+ age group in Thuamul Rampur and Mohana blocks in Kalahandi and Gajapati districts by May 2022.
Gram Vikas engaged a team of Tika Sathis to collect information on current levels of vaccination, spread awareness on the benefits of COVID-19 vaccination and to mobilise the community to receive vaccines. The team reached even the most  remote and inaccessible hilly ranges and narrow valley tracts to do household line listing. Vaccination rates in these blocks were low as many areas in these blocks are inaccessible. In most of these hilly areas, government vaccination teams could not mobilise and organise vaccinations for populations. Additionally, vaccine demand could not be adequately fulfilled  due to a shortage of government staff to administer the same.
To address this challenge, one Community Health Worker (CHW) from Gram Vikas was deployed in each block, as part of this project. The CHW would supervise and monitor Tika Sathis. Apart from the Tika Sathis, the Gram Vikas team in each block which would support the government efforts in the block were – two vaccinators, two data entry operators (DEO) and two vehicles with drivers.
Sanghamitra Nayak, 21, hails from Betarasingi village in Mohana Gram Panchayat in Mohana block. She works as a vaccinator with Gram Vikas since the project started in December 2021 in the block. "Tika Sathi, DEO, driver and myself form a four-member team every day while visiting a village. The household list of names prepared by a Tika Sathi comes really handy. Before we leave for a village in the morning, the officials at the Mohana Community Health Center (CHC) and the Gram Vikas team plan the day as per the line listing prepared by our Tika Sathi. The list tells us exactly how many people we will be vaccinating in a village that day, the distance to reach the village by vehicle and how far we will be walking in case the village is located in a hard to reach area. On many occasions we have had to walk up to 3-4 kms to reach a village. If we have to walk more, we plan a camp at midpoint. Our Tika Sathi informs the residents a day or two in advance to come down to the camp to get the vaccine."
Lata Paika, 20, is a Tika Sathi from Mahakopa village in Sikulipadar Gram Panchayat in Mohana block since the programme started in December 2021. She tells us about her experience of visiting villages to collect information on vaccine uptake, spread awareness on COVID-19 and address vaccine hesitancy prevalent in the village. "I visit a village only after village leaders assign a time to me to make my door to door visits fruitful. Some of the villages are located in dense forest areas and some in deep valleys. Take for example, Parabhadi village in Sikulipadara Gram Panchayat, is located in a forest area. I had to walk nearly 7 kms uphill through a forest to reach that village but met only a few families since the majority of the residents had left to cultivate their fields in higher reaches of the hills.  Village leaders understand the difficulties in reaching their village and therefore, inform me of a date and time when I should visit the village so that all the residents are available for the household listing," she says.
Sulochana Sunani, 19, a Tika Sathi from Samapalla village in Sindhipadar Gram Panchayat in Thuamul Rampur block feels, information provided by a Tika Sathi is always the latest and therefore, updated. "When Community Health Centre (CHC) tallies our house list from a village with the list of an ASHA or Anganwadi worker in the same village, it's the household line listing prepared by a Tika Sathi that has the updated and latest information about a village, the number of eligible persons to be vaccinated, how many have taken the first/second dose, how many have not taken a single dose or how many were hesitant to take the vaccine but due to our persuasion have agreed to take the jab now. Officers in the CHC issue vaccine vials every morning on the basis of our list."
The efforts continue as many Adivasi dominated areas in the two blocks recorded disproportionately lower vaccine coverage compared to other areas in the two districts. Indigenous people are more vulnerable than others during the pandemic on account of their higher degree of socio-economic marginalisation, their lack of access to effective monitoring, early-warning systems, and health and social services.
Deepak Kumar Majhi, Block Program Manager, CHC, Thuamul Rampur block, says, "It is very difficult to persuade them. Their traditional belief systems act as a barrier. They are extremely vulnerable. Moreover, tracking them in remote hilly areas is very difficult for us. Gram Vikas has a historical connect with the communities here. Their Tika Sathis are local youth who know the topography of this block. They consistently make efforts to track the residents and speak their language. It was easier to reach out to more villages after they came in to support our efforts at 100% vaccination of all eligible people in this block." He adds, "Because of this coordinated efforts, we have been able to cover 1063 villages across 24 Gram Panchayats. 100% of the eligible persons have been covered with the first dose and 79% have been administered the second dose."
Bharti Naik, 20, from Durkhal village in Gopinathpur Panchayat in the Thuamul Rampur block who administers vaccines as part of the  Gram Vikas team says, "The house listing has been very helpful. When we plan our visit to vaccinate people for the day with the officials at the CHC every morning, these officials know exactly how many vials are required for a village. This way there is accountability from our end when we carry the vials issued by the CHC to us."
Bharti finds that these days more people want to take the vaccine, even those who were earlier hesitant. "Our Tika Sathis go and mobilise these people who refused to take the vaccine before. Sometimes they go to a village where all eligible people have been vaccinated except a few. These few could be just two or three persons who might have earlier resisted but now want to take the vaccine. Sometimes people miss out on getting vaccinated as they are busy in farming activities. We don't want to leave out even a single eligible person. Wherever our vehicle would not be able to go, such as while crossing a stream, places which had huge rocks leading towards a remote village, we walked from the point where our vehicle would not be able to go any further. It would usually be a long trek in such cases."
Keshaba Majhi, 24, a Tika Sathi from Pustiguda village in Kalahandi had people closing their door in his face and questioning his intentions initially. "I had to clear the air about my presence in the village. The misconceptions regarding vaccines among the villagers led to resistance. Thereafter, I approached a village leader or a Village Development Committee (VDC) member before making a visit to the village. They ensured the presence of all residents during my visit and without fear which was rooted in some rumour."
Tika Sathis are recruited from the community, which helps build better trust, "People hear us out. I would tell them so-and-so a person in a village nearby has taken the vaccine and is now going out to work in the fields. They believe me. That's how the initial buy-in happened," says Sulochana Sunani, a Tika Sathi from Sindhipadar Gram Panchayat in the district. "In many villages, leaders led the way by vaccinating themselves first. People were more forthcoming when they saw their leaders were fine and did not suffer any side effects," she adds.
An ex-Ward member from Amthaguda village in Kaniguma Gram Panchayat in Thuamul Rampur block, Mahadev Naik, 34, says, "The Tika Sathis have shown utmost patience in explaining to each household about the merits of taking the jab. They are visiting villages on a daily basis and mobilising even the two or three people who have been left out and were unable to take the vaccine due to their unavailability or initial hesitancy. They don't want to leave out even a single eligible person from getting vaccinated."
Gram Vikas decided to vaccinate these communities by bringing the vaccines to their doorsteps. "They are comfortable on their own turf and are more willing. With their village leaders having led the way, they are no longer hesitant," says Keshaba Majhi, a Tika Sathi from Kaniguma Panchayat. The villagers were grateful for the healthcare facilities reaching their doorstep. This prevented them from travelling long distances to get vaccinated and, without losing a day's wage.
Tapan Kumar Majhi, 20, a Tika Sathi from Sindhipadar village in the Sindhipadar Panchayat walked over 6 kms uphill to do household line listing of the adivasi households living in three villages. He found 35-40 eligible persons who had not taken even a single vaccine dose. There is no healthcare facility anywhere close to these villages.
Gram Vikas designed a communication strategy using folk theatre around combating COVID-19 and vaccine hesitancy to motivate the communities to take vaccination. Messaging through theatre encouraged communities in Gambhariguda, Mundichuan and Biraguda hamlets to come down to Barsikana village located at the foothills in late February this year. Students from the Gram Vikas Shikshya Niketan Residential school in Kumudabahal village who hail from villages in these areas enacted a street play in the local languages.
The use of street play in the local language by the students helped tweak vaccine advocacy to make it culturally relatable and trust-inspiring among the locals. A vaccination camp was organised so that villagers could get vaccinated after watching the play. "That day, 99 people got vaccinated including people from Barsikana village where the street play was organised and the camp was set up. Our hard work at convincing these people actually paid off that day. The villagers were grateful for the healthcare facilities reaching their doorstep," says an elated Tapan Kumar Majhi, the Tika Sathi who mobilised the people of the three hamlets by walking up the hill twice in the past and persuading the residents to come down that day.
"Grass roots organisations like Gram Vikas and the effort they have put in at mobilising people has made a lot of difference to our efforts at getting the majority of eligible persons vaccinated in the block. Their Tika Sathis tracked people in remote and inaccessible areas, villages as small as having five or six families," says Bibhu Prasad Kar, Block Programme Manager, CHC, Mohana block.
"As of 23 April 2022, we have already covered 762 villages – revenue villages as well as hamlets, in 39 Gram Panchayats in the block. 90% eligible persons have received their first dose, while 86% of people have already received their second doses. The Government had five teams for the programme. Gram Vikas supported us with two teams of their own in December 2021, which has made a lot of difference to the number of people we have been able to reach out to for the vaccination programme."
Vaccinators trekking up to a remote village carrying vials.
Photograph from Gram Vikas archive
ACKNOWLEDGEMENT
Bairagi Karjee, Community Health Worker, Mohana block, Reshma Khan, CHC Program Manager, Thuamul Rampur block, Santosh Kumar Naik, Sanitation Field Expert Trainee, Gajapati, Bidyutprava Praharaj, Thematic Coordinator - Documentation & Communication, Kabir Rana, Junior Manager - Safe and Dignified Migration, Jaison Jose Thomas, Junior Manager - Communications Team, helped in data collection for the story. Ganesh Chakravarthi edited the story.
ABOUT THE AUTHOR
Chandrika Patnaik leads content production within the Communications team in Gram Vikas.