Opinion | Looking ahead- Gram Vikas @50
Feature
By Priyanka Singh
18 November 2019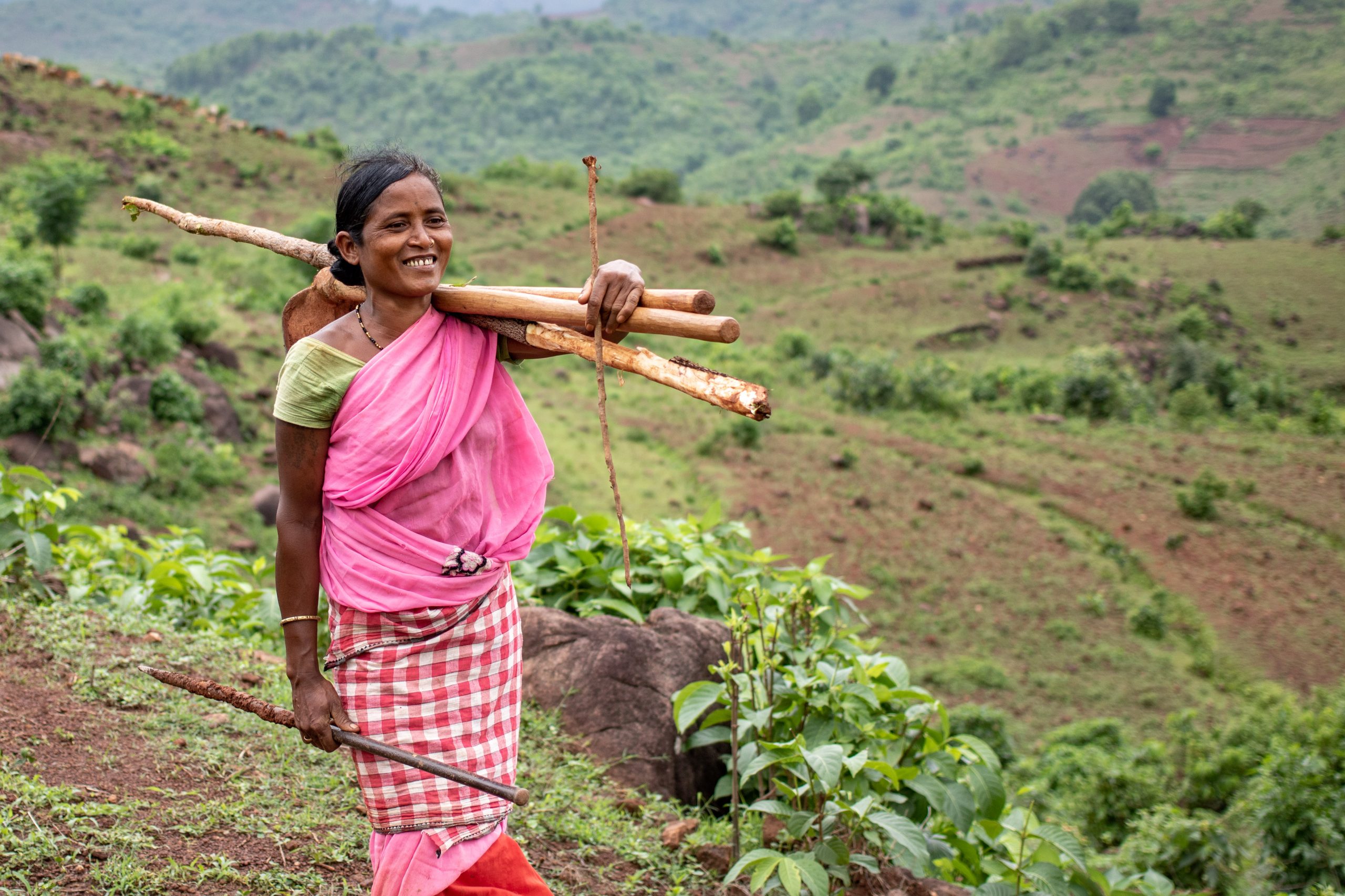 A woman walking to her work field in Thuamul Rampur block, Kalahandi district of Odisha. Photograph by Dibya Alok
Gram Vikas is at a unique vantage point today. It has enjoyed the trust of the local politics, government and communities which has allowed it to have an uninterrupted stint in one geography for four decades.
Undoubtedly, like some of their peers, Gram Vikas would have had its own institutional challenges of talent, leadership, resources and direction, in its fourty year journey. Yet, it is in a good place today, having found an Executive Director, who is a son of the soil and the founder is letting go, even as he stays on. Gram Vikas has a stable core with efforts to induct freshness. It continues to expand in new geographies even as it holds on to its location in Odisha.
What is it that Gram Vikas can do new or more as it moves to its fifth decade? 
I would think this is the time it can reflect on its relationship with communities and analyse the transformation it may have led to or wishes to, in its partner communities.
Most NGOs are able to do a tremendous job of helping communities deal with their everyday problems, especially individual problems. However, they tend to have a limited impact on the social and power relations within communities especially to make it more egalitarian and democratic. 
Poor communities – whether tribal, scheduled caste or any other castes are often fragmented and in most cases, not given to automatically cooperate for something that benefits them all. Even though they do have huge potential to worry about the larger good, often it is eroded by their compulsions to vertically align with local power brokers. 
The poor live in an ecosystem where services like social security, police, land records etc do not always work on merit and where politics thrives on patronage. This continuous cutting of corners and being beholden to power brokers have eroded people's faith in their own agency, ethics and ability to improve their lives. 
Voluntary organisations, like Gram Vikas, have the potential to leverage their welfare and developmental programmes to restore these abilities in communities and reorder social, gender and political relations. For that to happen, organisations have to examine their processes and outcomes. 
For example, when organisations work on sustainable land and natural resources, are they actually looking at what communities do for the environment or only at whether the intervention has led to more incomes? The poor are as much wont to exploit the environment as the rich and NGOs like Gram Vikas could start studying whether their programme allows communities to think of the environment as a shared resource for now and the future.
Similarly, they can reflect on whether programmes lead to the creation of a new elite in the name of community mobilisation or actually set in place a set of new norms for democracy, transparency and inclusiveness.
Such transformative changes are the work of generation but then voluntary organisations have the advantage of not having to be populist in their approach. They are also not here for short term gains. They can build on their development programmes to nurture a just and democratic society.
Gram Vikas with all its advantages is well poised to do that. I wish it luck in its journey of development for democracy.
Women watering the plants in the nursery at Nuapada village, Thuamul Rampur block, Kalahandi district of Odisha. Photograph by Ajaya Behera
ACKNOWLEDGEMENT
This featured article by Priyanka Singh is part of a series of opinion pieces by leaders and experts in the development sector reflecting on Gram Vikas' work in relation to social issues, solutions and government.
ABOUT THE AUTHOR
Priyanka Singh is the Head of Interglobe Foundation. She was previously the Chief Executive of Seva Mandir, Udaipur, Rajasthan.