Lunugundi brothers earn better through mobile phones, motorcycles and better farming practices
Story
By Mrunal Patil
30 September 2019
Magatha Pradhan and Upendra Pradhan, two brothers from Lunugundi village, use technology applications to learn farming techniques to grow vegetables in summer, avoid middlemen to sell directly in the market and earn better incomes.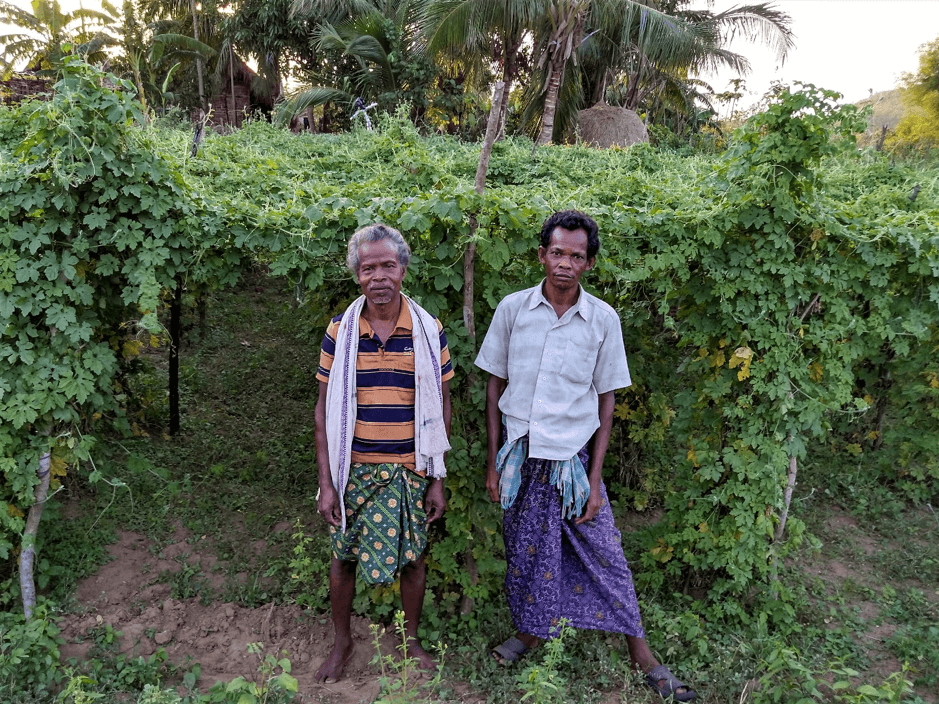 The happy farmers, Magatha and Upendra, in their bitter gourd field.
Photograph by Mrunal Patil
Magatha Pradhan and Upendra Pradhan, brothers from Lunugundi village in Jagannath Prasad block of Ganjam district, are pioneers. They are guiding other villagers on how to generate incomes from their hitherto unused backyards, by growing bitter gourd and ladies' finger in the summer season.
Gram Vikas helped the village implement the water and sanitation programme 10 years ago. Lunugundi village piloted the Smart Community Interface programme. As part of the project, six farmer families went on an exposure visit to Keonjhar district to interact with the vegetable farmers there. A training session in January 2019 by Gram Vikas along with its partner Vriddhi Rural Prosperity Services followed the visit. The training covered seed germination techniques, alternative farming practices, bed preparation etc. for vegetables such as bitter gourd, eggplant, ladies' finger and beans.  
Magatha Pradhan, one of the trainees who had also been on the exposure visit, decided to cultivate bitter gourd. As a beginner, he cultivated it in 0.18 acres of land. He planted the bitter gourd seeds in the third week of January, soon after the training. He followed the techniques, from spacing to regular intervals of watering, and could see the results in March. He also convinced his brother, Upendra Pradhan, to do the same.
Upendra Pradhan planted bitter gourd in 0.10 acres of land and ladies' finger in 0.18 acres of otherwise barren land. He started the cultivation 15 days after his brother. Magatha Pradhan started getting the farm produce from the middle of March onwards while his brother expects his first sack of bitter gourd and ladies' finger in the first week of April. 
Buoyed by the vegetable market price update provided through SMS by the I-Am-Kisan application, which is a part of the Smart Community programme, the brothers decided to take up sale of the vegetables themselves thereby avoiding the traditional middlemen.
Magatha carried 70-80 kgs of bitter gourd once in three days on his motorbike to either the Gandadhara (7 km away) or Belguntha (21 km away) markets and sold for a price of around ₹ 15-18 per kilogram. Upendra Pradhan plans to make door-to-door sales in the nearby villages.
In March 2019, Magatha earned ₹ 6,300 and Upendra expects to earn about ₹ 4,500.  They will continue selling the farm produce until July. "I was a little afraid before cultivating these vegetables as we were the only farmers (the two brothers and one more) in the village to start this venture. As I see the results now, I am confident of growing brinjal, ladies' finger and bitter gourd in the coming rainy season also. I am also planning to repeat this in next summer in a bigger plot of land, as I know the technicalities now", says Magatha Pradhan. Other villagers have been observing them and want to start vegetable cultivation in the coming rainy season as well as next summer.
'We have found another crop to rely on for our livelihoods besides cashew during the summer season, and we are happy that we took this initiative', says Magatha Pradhan.
Bitter gourd crop ready for harvest in Magatha's field.
Photograph by Mrunal Patil
ACKNOWLEDGEMENT
Sangita Patra supported with the content framework for story collection and story finalisation. She is a member of the Monitoring, Documentation, Communication group at Gram Vikas.
ABOUT THE AUTHOR
Mrunal Patil is a Young Management Trainee at Gram Vikas.