MGNREGS brings water for irrigating paddy fields in Karnipadu village
Story
By Rahul Thekdi, Chandrika Pattnaik
28 July 2020
Karnipadu Gram Panchayat commissioned work under MGNREGS to make concrete walls along the village canal that supplies water to the paddy farms. Once completed, it will make the 51-household village, a Kui Adivasi settlement, water sufficient.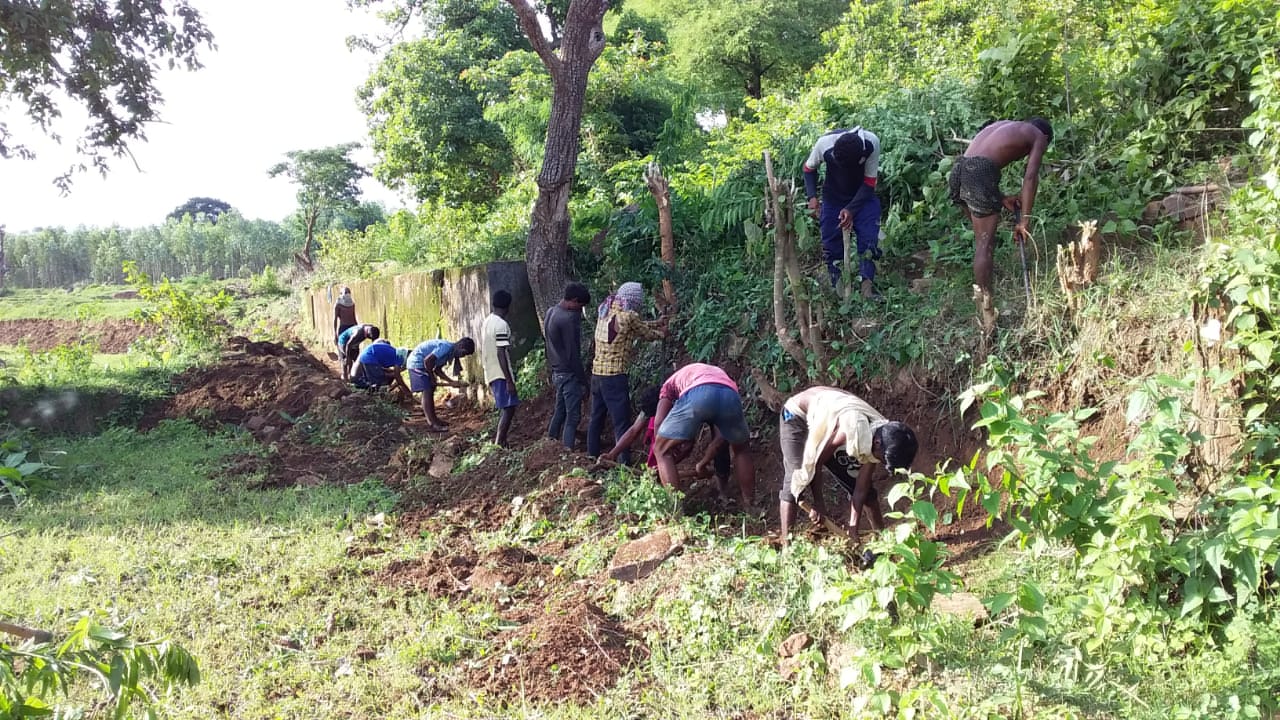 People from the Karnipadu village engaged in clearing the bushes, shrubs and soil along the canal.
Photograph by Chhabi Mohanty
Twelve farmers of Karnipadu village in Rayagada district leave their lands uncultivated, every year, for five months from December to May. Water for irrigation is hard to come by during these months. A 300-meter canal fed by a small dam nearby is the only water source. The canal irrigates 20 acres of paddy fields belonging to the farmers.
A predominantly Kui Adivasi settlement under Rekhapadara Gram Panchayat, all 51 households of the village are engaged in farming. The families rely completely on agriculture and do not venture out of their village for work. However, when the Kharif season ends in December, the 12 families clean their cashew orchards as the flowering season of cashew begins. They go to the nearby forests to collect wood, tamarind, and Mahua, the indigenous drink, which is then sold in the weekly markets. Kharif season is the only time when these farmers are able to cultivate their fields which are situated near the rain-fed small canal. In the absence of rain, the canal remains dry during the rest of the year. 
The families requested the village committee's support to make good use of the water flowing from the dam into the small canal. Clearing the canal and building concrete walls along its length would ensure smooth flow of water into the paddy fields surrounding it. It would help irrigate fields farthest from the canal. 
During the lockdown, the Gram Panchayat released funds under MGNREGS for the work. From May 2020, people from the village have taken time off from their work to help these 12 families clear the bushes, shrubs and soil along the canal and also make concrete walls along the length of the canal. 
Once completed, it will not only provide an additional source of income but also ensure sufficient water supply to the paddy fields in the months to come. Although work on clearing the canal is over, onset of the rainy season has temporarily stopped the work on making concrete walls along the canal. It will be continued once the monsoons are over. 
Concrete walls have been made along the length of the canal.
Photograph by Chhabi Mohanty
ACKNOWLEDGEMENT
Chhabi Mohanty, Project Coordinator with Gram Vikas, helped in data collection for the story. Priya Pillai edited the story.
ABOUT THE AUTHOR
Rahul Thekdi is a communication intern and Chandrika Pattnaik is a Junior Manager at Gram Vikas.