Micro weather stations aid better crop planning and water smart farming
Story
By Chandrika Patnaik
27 January 2021
Adoption of technology solutions help rural communities make better choices and decisions for their water security and livelihoods.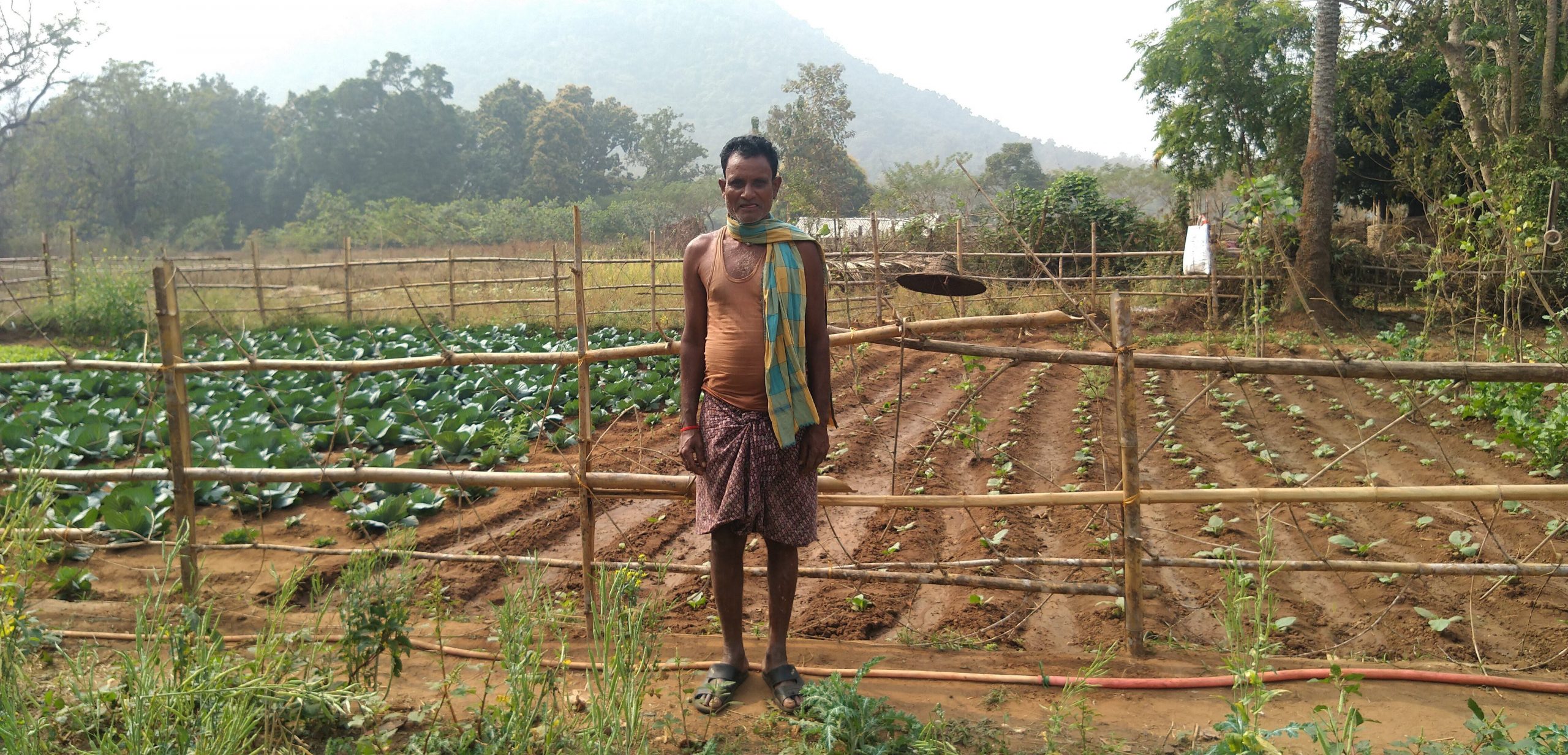 Bipra Charan Pradhan, a marginal farmer from Nuasahi village benefits from the weather board advisory.
Photograph by Chandrika Patnaik.
In early 2020, Satya Jani, decided to become a vegetable farmer by growing brinjal, tomato, bitter gourd and other seasonal vegetables. She lives with her son and husband in Adibasi Colony in Jagannath Prasad block of Odisha's Ganjam district. Until the end of 2019, Satya's family grew only paddy in their one acre of land. The other acre was left uncultivated.
Balaram, her 18-year-old son, used to watch best practices videos on vegetable farming on his friend, Arjun's smartphone. Arjun was one of the farmers benefiting from the Smart Community Interface (SCI) programme of Gram Vikas. Gram Vikas' SCI initiative gives farmers access to local market price of the produce over SMS, and weather forecast over a 10-kilometre radius of a micro Automatic Weather Station (mAWS). Farmers with limited or no internet connectivity access locally relevant information at their doorsteps. The Micro-Automatic weather station (mAWS) is a solar-powered wireless sensor device that stores data and provides real time weather alerts, temperature, wind direction, humidity, rain and disease advisories.
Arjun, who was part of the SCI programme, grew cucumbers in their one acre of land harvesting more than two quintals of the vegetable in one day. Motivated by Arjun's success, Balram suggested to his mother that they grow vegetables in their uncultivated one acre of land. They started in October 2020 and earned over ₹45,000 selling brinjals alone.
Satya draws confidence from the weekly weather information from the micro Automatic Weather Station (mAWS) installed by Gram Vikas at the block. "The weekly advisory has changed my life completely. It has given me a sense of security and confidence to cultivate vegetables. I am growing vegetables for the first time. The timely weather information has helped me better prepare for rains, foggy weather, and pest attacks. We know when to water and when not to. If I receive an SMS saying it's going to rain, we will reduce watering. I am now able to use water intelligently and sustainably, saving money and labour as I use a pump. I have started growing a variety of other vegetables now in another one acre of land," says Satya.
Satya's son Balram adds, "The alerts on the weather advisory board have been beneficial for our neighbour who owns cattle. In November last year, he repaired the roof of his cattle-shed when the board predicted heavy rain. Similarly, during a religious festival in our village last year, we advanced the annual feast by a day since the weather board predicted rain the following day."
Bipra Charan Pradhan, a member of Nuasahi village committee of Jagannath Prasad block in Ganjam district, works as a farmhand earning daily wage once his paddy is harvested. Along with his wife, Dangi Pradhan, he grows vegetables in their 0.60 acre of land. They sell the surplus vegetables in the local market for an additional income. Bipra says, "The Weather Board is a boon for small farmers like me who do not have a phone and are not subscribed to receive the messages being sent. We have a village level cadre who manually puts all the information on parameters such as soil moisture, temperature, humidity, pressure and rainfall in the weather board which is a dedicated concrete wall at a centrally located space within the village. This information can be accessed by one and all in the village. I plucked the leafy vegetables and tomatoes just before the drizzle in December last year. The timely and accurate prediction of a drizzle saved my vegetables. I plucked the leafy vegetables just in time and sold them, otherwise the rain would have wasted them."
Kumar Nahaka, a vegetable farmer and brick kiln owner from Ghogoda village says, "Being a vegetable farmer and a brick kiln owner, I make it a point to have an updated weather forecast on my phone. The Google forecast was not reliable at all. But the weather board in my village gives me timely and near accurate information about local weather conditions. I also plan my work at the kiln days in advance and only employ workers if the Weather Board predicts sunny weather for a few days in succession. This has resulted in zero loss for me in my brick business."
Satya Jani with her son Balaram Jani.
Photograph by Chandrika Patnaik.
ACKNOWLEDGEMENT
Santosh Kumar Padhy, Narayan Sahu, and Khageshwar Pradhan assisted in field data collection for the story. Priya Pillai and Ganesh Chakravarthi edited the story.
ABOUT THE AUTHOR
Chandrika Patnaik leads on content production within the Communications team.