Migrant workers build long-term resilience through social security schemes
Story
By Chandrika Patnaik
1 April 2023
Community Champions address problems related to social security and health rights of interstate migrant workers in Odisha's Kandhamal district.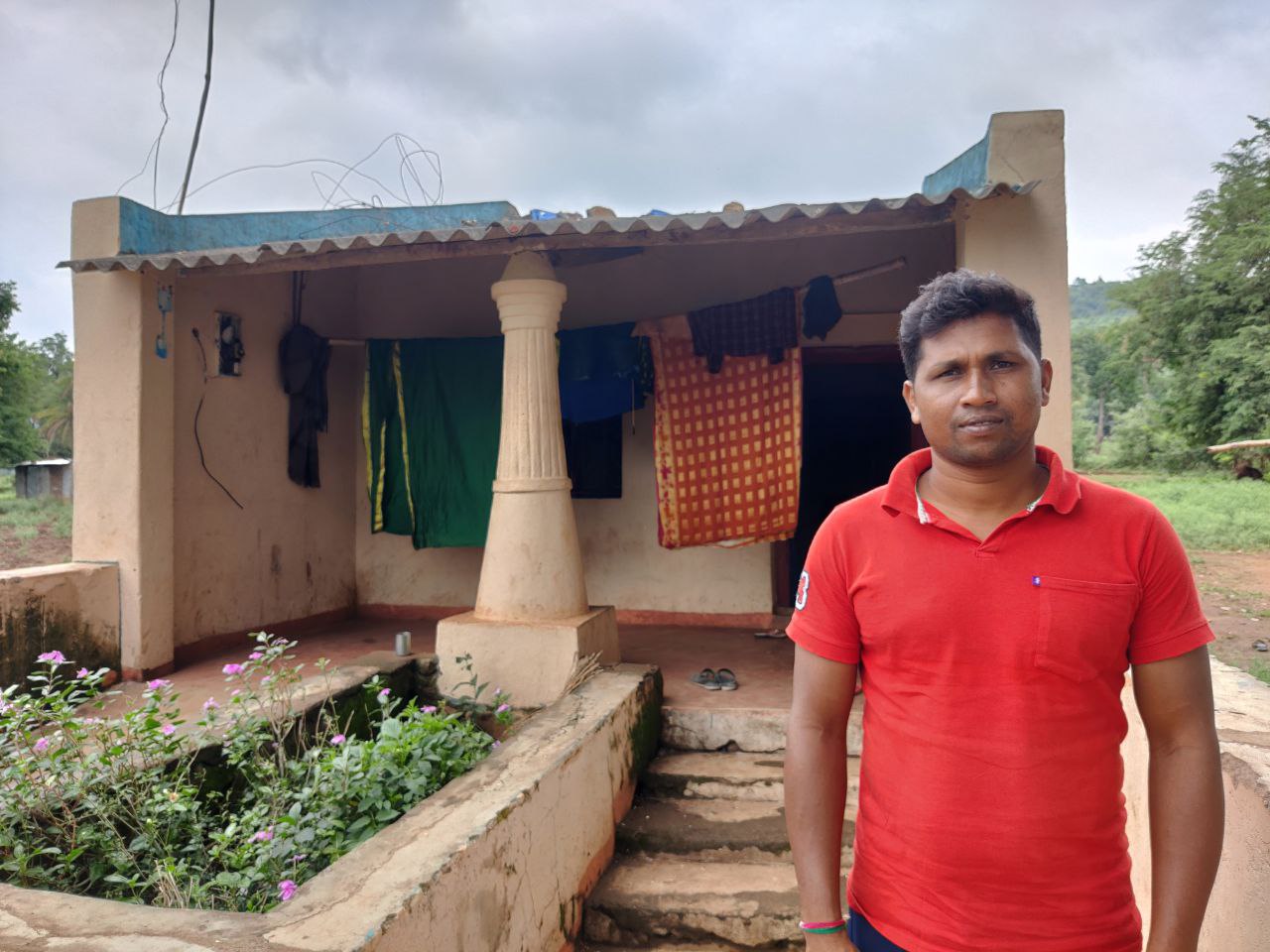 Alok Nayak in front of one of his houses he built from money earned from working in Kerala.
Photograph by Kabir Rana
Alok Nayak, a 34-year-old migrant worker, is from Partamaha village in the Daringbadi block of Odisha's Kandhamal district. Alok migrated after passing Class 10 because his family owned no land, and his village had no employment opportunities.
His first stint as a migrant worker started 13 years ago when he travelled to Kerala to work as a labourer on a construction site with other residents from his village. At the time, his daily earnings were ₹150. He learned to drive a car during one of his visits home.
Two houses and education for his children
When Alok returned to Kerala, he got a driver's job and earned a monthly salary of ₹17,000. Slowly, he started learning to drive twelve-wheeler and eighteen-wheeler trucks. Alok then took up driving and operating cranes. As a result, he obtained licences to drive all these vehicles.
For the past seven years, Alok has been driving and operating a crane for a private company in Palakkad town in Kerala. "I earn ₹30,000 as a fixed salary every month and an additional ₹1000 for each day I work at the site. I send money to my wife's account every month to help meet my family's monthly expenses back home in Partamaha", says Alok. His wife withdraws the money from a nearby kiosk bank.
Alok shares with us more about the impact of the monthly remittance, "Using the money I sent, my family has been able to purchase two residential plots, one in the village and another in Baliguda town. We built two pukka houses on the two plots of land. Our four children are in the Baliguda, Berhampur, and Bhubaneshwar boarding schools."
Community Champion helps Alok get insurance
This year during his visit home in May, Alok met Community Champion Dillip Sahu. Dillip is a part of the Community Champions Network (CCN) of Gram Vikas' 'Safe and Dignified Migration' programme. He conducted the house listing survey in Alok's village Partamaha to create a migrant registry.
"Alok did not have insurance. I explained the various insurance schemes available, their benefits, how to apply for one, and the claim process", says Dillip. Alok had heard of the benefits of having life insurance coverage earlier due to the nature of his work but needed help figuring out how to avail them.
Dillip says, "I helped Alok fill out the application forms for the Pradhan Mantri Surakshya Bima Yojana and Pradhan Mantri Jeevan Jyoti Bima Yojana, and submitted the applications at the Bank branch in the nearby town of Daringbadi."
Alok aims to educate his fellow migrants in Kerala about the same and wants to enrol them in these schemes.
Panchayat-level migrant registries enable targeted support
Gram Vikas partners with Prachodhan Development Services in the Kandhamal district to help migrant workers and their families make informed migration decisions.
In the Daringbadi Block of the district, nearly 3000 migrant workers and their families receive information, decision support systems, and timely access to entitlements and social security schemes. The programme has helped the workers reduce dependence on employer loans and advances.
House listing surveys helped to create migrant registries at the Gram Panchayat level. Completed surveys across 10 Panchayats revealed the number of migrants and their dependent families who availed of Central Government Schemes.
Migrant workers open bank accounts and get PAN cards
Manas Nayak (27), another migrant worker, is a resident of Burangia from Daringabadi Block's Kirikuti Gram Panchayat. For the past four years, he works as a coffee bean picker at a coffee garden in Bengaluru. "It is my first job outside Odisha", says Manas.
Manas first migrated because he saw a lot of youngsters from his village migrating outside Odisha. He learned about his present employment from a cousin already working in Bengaluru. Soon he travelled to Bengaluru and took up the opportunity as a coffee bean picker.
"I earn ₹2-3 for each kilogram of beans I harvest. I pick beans worth ₹10,000 a month, and that's my monthly earnings. My employer pays me in cash every week. I live with five others in a room given by our employer", shares Manas about his life in Bengaluru.
Manas doesn't hold a bank account. He sends money home through an agent who transfers the amount to Manas' wife's (Geetanjali) bank account. The agent charges a small fee for his service.
The family owns 0.5 acres of land where they cultivate paddy and turmeric, common crops grown in Kandhamal. Manas returns to his village during the sowing and harvesting seasons to help his family with their agricultural work. During his annual visit home this year, he met Community Champion Dipak Digal, who told him the importance of having a bank account and an insurance policy.
"I was delaying opening a bank account and getting an insurance policy, thinking about the hassles and complicated processes involved", says Manas.
Dipak took Manas to the Simanbadi SBSK Centre, where he facilitated the process of opening an account for Manas in the State Bank of India branch. He helped him avail of the Pradhan Mantri Jeevan Jyoti Bima Yojana (PMJJBY) insurance coverage.
Dipak also helped him apply for a PAN Card, which he received within a few weeks. Manas now has a clear idea of how to avail social security schemes and ensures his fellow migrants have bank accounts and subscribe to the life and accident insurance policies.
Manas says income from migration has provided substantially to his family, "Using what I earn from my job in Bengaluru, I built a pukka house and set up a small grocery shop in the village, which my wife runs." He is in touch with his employer at the coffee farm, where he hopes to return in a couple of months.
Like Dillip and Manas, six champions of the Community Champions Network (CCN) have been instrumental in helping migrant workers and their families access social security schemes and reduce their dependence on loans and advances from employers.
Resource centres and helplines support migrant households
Since November 2021, we have enumerated 8966 households and individuals in 178 villages in Daringbadi Block to create the migrant registry. The registries will help the CCN identify migrant households and their issues in accessing social security schemes.
The programme has established three Source Facilitation and Resource Centres (SFRC), named Shramik Bandhu Seva Kendra (SBSK), in Daringbadi, Simanbadi, and Brahmunigaon blocks, respectively. The SBSK Centres function as a one-stop centre providing information for the travel and transit of the migrants at the source site.
In addition, a helpline centre equipped with a trained executive responds to calls from workers on the workplace, travel, employer, and nonpayment of wages.
In the Thuamul Rampur block of Kalahandi district and the Daringbadi Block of Kandhamal district, a network of such centres provides access to information and documentation services for workers from remote villages.
These centres have helped family members trace missing workers, secured the release of workers forcefully detained by their employers at the destination, and facilitated the return of the bodies of migrant workers who perished away from home.
Read the paper on inclusionary interventions for migrant workers at the grassroots, source and destination regions by Gram Vikas and the Center for Migration and Inclusive Development (CMID): https://bit.ly/3zDDx3U.
Alok Nayak along with his wife and son in the photo.
Photograph by Kabir Rana
ACKNOWLEDGEMENT
Kabir Rana, Project Manager, for the Rural Livelihood Project is working in Gram Vikas' Safe and Dignified Migration programme and Dillip Kumar Sahu and Dipak Digal, Community Champions at the Shramik Bandhu Seva Kendra (SBSK), in Daringbadi and Simanbadi, helped with data collection of the story. Mark Lancy Sebastian edited this story.
ABOUT THE AUTHOR
Chandrika Patnaik leads content production within the Communications team in Gram Vikas.