Nutrition gardens strengthen resilience during the pandemic and help families eat healthy round the year
Story
By Chandrika Patnaik
24 January 2022
All households in an Adivasi habitation in Odisha grow vegetables in their backyard gardens as part of a wastewater management system. The initiative gets them enough vegetables to eat, surplus to share with their neighbours, and improves their food security and dietary diversity.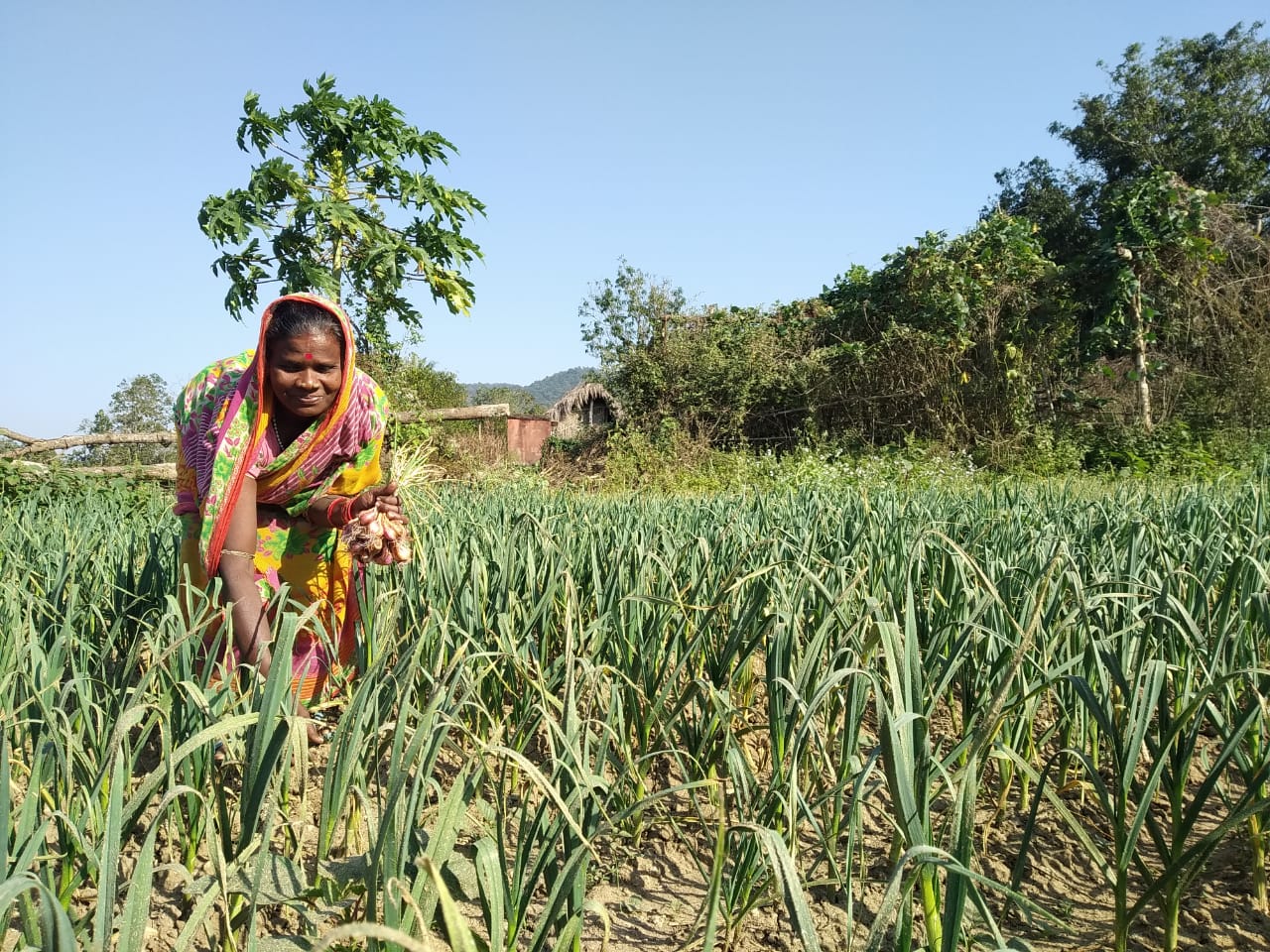 Chandrakala's diversified backyard garden inspires others to include more varieties too.
Photograph by Mihir Kumar Bhuyan
Forty-five-year old Chandrakala Mallik has been a vegetable farmer since 2013. She lives with her husband and daughter in a small village Mandapathara.
An Adivasi habitation, in Ganjam district of Odisha, Mandapathara is on a hillock. Residents walk down the hill through unpaved roads, for about a kilometre, to reach the main road. They walk another three kilometres to reach the nearest weekly market in Khajuripalli village to buy vegetables.
But Chandrakala no longer has to make this weekly trip. For the past seven years, she has been using her backyard to grow onions, garlic, tomatoes, brinjals, lady's finger, bitter gourd, beans and pumpkin.
"I have been doing kitchen gardening for many years. Before I started growing vegetables in my backyard, I used to walk up to four kilometres to buy vegetables from the weekly haat. It was tiresome and difficult carrying two bags of vegetables every week. My husband works as a daily wage labourer and walks long distances to look for work in other villages. So I don't burden him with buying vegetables on his way back home in the evening."
Prior to 2012, the village faced water scarcity every summer. The 22 households depended on the Tutibara river, half a kilometre away from the village. Women dug holes along the river banks for water, which they then collected in vessels and carried home.
In 2011, with support from Gram Vikas, the village got a piped water supply system. Every household built a bathroom and a toilet. The following year, pipes were laid, and every household got water supply. As the village does not have power supply, the water supply system is powered by solar energy. Today, all households get 24×7 piped water supply through three taps.  
Initially, the wastewater from Chandrakala's kitchen accumulated in the backyard. It caused a foul smell and attracted flies. But now she uses it to irrigate the beds with the vegetable plant, "I started my garden growing onions and garlic."
Training households in wastewater management is integral to Gram Vikas' sanitation and hygiene programme. Soon after a village constructs toilets and bathing rooms and starts piped water supply, the residents are trained in setting up backyard nutrition gardens.
"Staff from Gram Vikas visited our village many times and explained to us how the type of food we eat can affect the health of women and children. They trained us to set up vegetable gardens in our backyards and become self-reliant. They also sold good quality seeds at subsidised rates so that we could afford to buy the seeds and grow our own vegetables. This is how most of the households were encouraged to grow cauliflower, cabbage, peas, beans, tomatoes, ladyfinger, brinjals, and radish in their backyards and eat healthily."
Every day, Chandrakala spends over two hours looking after her garden. Encouraged by the initial success, she started growing other vegetables in a portion of the land, "Now, from about 0.5 decimal of land, I get enough produce to last us for six months.
Kitchen gardening has decreased her weekly expenditure on vegetables and helped her save money for other needs. 
"I used to spend nearly ₹250-₹300 every week buying vegetables from Khajuripalli market. During the start of a season, beans, cauliflower, peas, etc. sell at a higher price. I have spent up to ₹350 a week, when my husband and daughter wanted to have these vegetables. But those used to be rare occasions, when we spent so much. Otherwise, we usually settled for potatoes, leafy vegetables, and pumpkins, which were sold at a comparatively lower price." 
Sixty five year old Mani Jani, another resident of Mandapathara, lives with her husband, her son- and daughter-in-law and their four young children. Just like the other households in her village, Mani and her family work as daily wage labourers on construction sites. They have to walk up to two kilometres to look for work.
During the lockdown, the village residents struggled to feed their families as there was no work and income. Mani says they completely depended on their backyard garden for vegetables during the lockdown.
"My husband, son and I could not leave our village to look for work during the lockdown. There are eight members in our family. My four grandchildren are young and require good nutritious food. I don't know how we could have managed without our backyard garden."
Initially, Mani grew vegetables in less than 0.5 decimal of land, as she did not have any help. During the lockdown, her husband and son started helping too. They then increased the area of cultivation to 1.5 decimal, put in more plant beds, and grew a wider variety of vegetables. 
"We grew vegetables in higher quantities. We even harvested surplus quantities of tomatoes, brinjals, radish, pumpkin, and green chillies that I distributed among six to seven families living close to my house. The women in my neighbourhood could not grow this variety of vegetables and did not have enough money to buy vegetables from the market. So I shared the surplus with them during those difficult days of lockdown."
Promoting nutrition gardens in homestead lands is an integral part of Gram Vikas' programme in water conservation and wastewater management. Once a village gets a piped water supply system along with toilets, bathing rooms, and functional household level tap connections, residents are trained in setting up backyard gardens. 
Basanti Mallik, Secretary of the Mandapathara Village Development Committee (VDC), says, "Gram Vikas first trained the VDC members on kitchen farming. They showed us the making and preparing of beds for sowing seeds, channelling the wastewater from the house, plant spacing and fencing the garden to keep out the hens and goats, nursery raising of seedlings, and planning and choosing crops to enhance food security for our families throughout the year. We then taught other families during the village and SHG meetings. Gram Vikas staff also visited our gardens and guided us on ways to get a better harvest. We got good quality seeds at subsidised rates and encouragement to use organic manure. Maybe that is the reason the leaf plate vendors prefer to buy the vegetables from our gardens, which look so fresh and taste so good."
Besides enabling efficient use of water in water-scarce regions, the homestead gardens aid in increased savings, dietary diversity, and food security. 
"My kitchen garden now fulfils the wishes of my daughter and husband with a choice of their favourite vegetables, which I cook for them every day. I get to save ₹250-₹300 every week to buy cooking oil, sugar, pulses, fish, and books for my daughter. I avoid walking long distances to the weekly haat and instead finish other chores at home," says Chandrakala. 
Mani Jani is able to harvest surplus quantities of vegetables from her kitchen garden.
Photograph by Santosh Kumar Rout
ACKNOWLEDGEMENT
Santosh Kumar Padhy, Thematic Coordinator, collected data for the story. Priya Pillai edited the story.
ABOUT THE AUTHOR
Chandrika Patnaik leads content production in the Communications team at Gram Vikas.