Safe and Dignified Migration for the poor in rural Odisha
Feature
By Liby Johnson, Benoy Peter
03 June 2020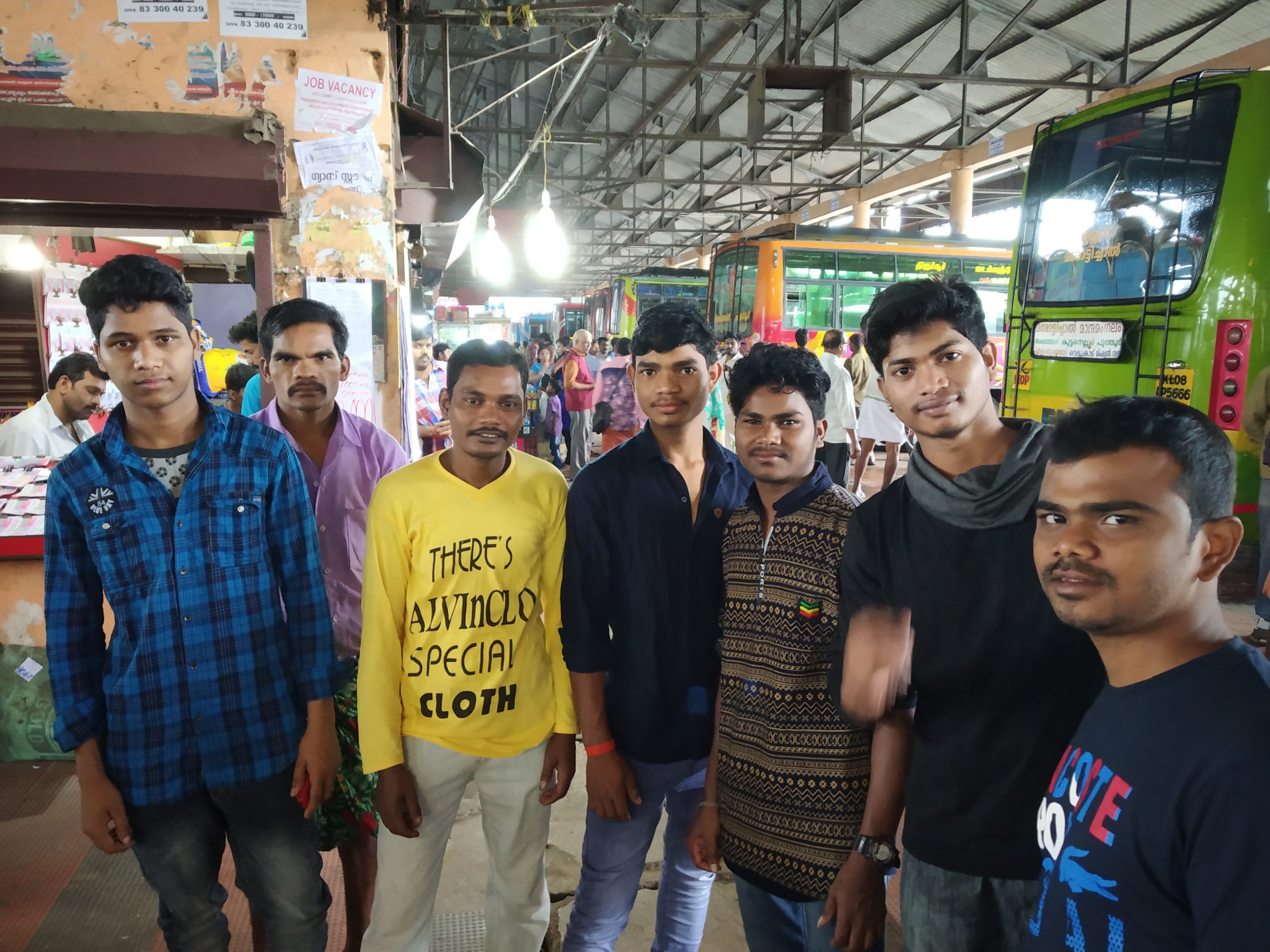 Gram Vikas Staff visiting the migrant workers from Odisha during the Kerala floods. Photograph by Jobin Chacko
While discussing migration, it is necessary to distinguish between distress migration, as seen in many parts of Central India today,  and opportunistic migration. What differentiates the two is the level of control that the migrant has over the decision to migrate. A study (Migration and Household Adaptation in Climate-Sensitive Hotspots in South Asia) on migration in climate-sensitive areas distinguishes between migration for coping and migration for adaptation—in other words, migration out of distress or migration for growth.
Migration as a viable livelihood option
Many communities that Gram Vikas works with have learned how to make the most of migration. The experiences of the village communities in Thuamul Rampur block in Odisha's Kalahandi district is a good example. Changes in monsoon patterns, over-exploitation of available land, and limited access to irrigation have resulted in widespread food and nutrition insecurity in the area. Non-agricultural wage labour is hard to come by, except through public employment generation schemes. Farm labour work is available for limited periods and pays very low wages. On the positive side, there is much better access to school education in the villages, opening up new possibilities.  An assessment (Challenges of migrants and families left behind) carried out by Gram Vikas  and the Centre for Migration and Inclusive Development in May 2019, indicates that 5 percent of the population in the block are currently labour migrants outside the district, predominantly in other states.
It is estimated that between ₹ 30 crore to ₹ 40 crore comes into the block annually through remittances made by migrant workers. The assessment highlights that several migrants have bought auto-rickshaws, providing not just employment, but also local transportation to the villages of the block, where public transport facilities are limited. Income from migration has helped households hire farm labour. It has also helped many households build better houses, pay off debts, invest in small businesses, and secure financial resources for marriages. The households with migrants are more likely to get credit from local financiers compared to households without migrants. There are also instances of young people returning to Odisha and using their savings to complete their education.
Development as a result of migration can impact the entire local social and economic situation as pointed out by the Human Development Report 2009. The quality of life improves, private investments in human development through better education and healthcare multiply, productive resources find better use and increased yields, and so on. Moreover, the growth has the potential to be sustainable.
The costs of migration
While there are obvious economic benefits of migration, the social and emotional stress it causes is high. From interactions with the various stakeholders we were able to identify a core set of issues.
 Table: Key issues faced by stakeholders
Stakeholder Group
Key issues
Migrants
Limited information about jobs at the destination

Not knowing where to turn to for information or support

Withholding of payment by the employer

Unexpected termination

Payment of less than agreed upon wages

Poor access to health care facilities

Lack of skills to obtain better jobs/wages

Difficulties in sending money to the family

Difficulties in getting train tickets for travel

Wives of migrants
Unable to access health care in the absence of husbands

Fear of extramarital affairs of the husband

Kids do not obey their mothers

Time and effort in getting money from banks

Mothers of migrants
Unable to access health care in the absence of sons

Problems  in collecting wood from forest

Shortage of labour for agriculture

Men/ Community leaders
Menial jobs that the migrants are having to do

Communication problems

Lavish consumption by migrants when they return

Time and effort in getting money from banks
Aggravation by COVID-19
The COVID-19 pandemic and the consequent lockdown have highlighted the precarious nature of migration-based livelihoods. The plight of the millions of migrant workers in the large urban centres of India have been highlighted across multiple platforms. Life has not been easy for those who migrated to take advantage of better paying jobs in the south of India. Drying up of income sources and the long period of uncertainty, the sense of alienation and emotional distress from being stranded in locations of work in the wake of the nationwide lockdown announced on March 24th 2020, , having to depend on charity for day to day survival and the uncertainties about the well-being of the families back home have been issues that the workers have had to face.
Many workers who managed to return to their native villages now stare at an uncertain future. In most cases, their wage income was the sole source for the families, most have debts to pay off, and local employment is hard to come by, even in a normal situation.
The economic effects of COVID-19 on businesses will result in lowered demand for labour, at least during the initial few months. This will result in reduction of opportunities for workers and increased competition, resulting in further lowering of wages.
The case for ensuring safe and dignified migration
The opportunities for secure and sustainable livelihoods in the villages of Odisha are limited by a variety of resource constraints. The North-Eastern Ghats and Western Undulating Lands agro-climatic zone regions, where the current intervention is focussed, are characterised by a mixture of moist peninsular, tropical-moist, dry-deciduous and tropical-deciduous forests and rain-fed agricultural economy. The high dependence on scarce and low-quality land and dwindling forest resources cannot sustain a dignified quality of life. Industrial activity in the region is largely in mining and provides little in terms of employment opportunities, while adversely impacting the natural environment. At the same time, improved access to education and exposure to new technologies are changing the aspirations of the younger generation. Under these circumstances, migration for work needs to be seen as an intermediate livelihood option – aiding the transition from a completely primary sector-based society to a modern one.
It is our position that whether or not to migrate for work is an individual's decision as it is the right of every citizen of India to do so. Migration has been a path to prosperity for people around the world. However, we would like to ensure that no one in the programme areas is left without a choice resulting in distress migration. We want to ensure that one has adequate and appropriate opportunities within his/her native place and the decision to migrate is a conscious and informed decision that is made for the upliftment of the person and her/his family. Besides, at the destination, the person is able to pursue his job with dignity and social protection.
Where a person chooses to migrate, safe and dignified migration in the context of rural Odisha consists of the four aspects.
| | |
| --- | --- |
| Occupational security | The ability of the a person to choose to migrate for work or not, with clear information about the prospects and consequences. For a person who decides to migrate information about the terms and conditions of employment, to find jobs commensurate with their skills, and freedom from exploitation at the workplace. |
| Emotional security | The ability of the migrant and the family that stays behind to be in touch with each other and be updated on each other's well-being on a regular basis. Reduced uncertainties during travel. |
| Financial security | The ability of the migrant worker to transfer earnings to her/his family and for them to access the money when needed, without incurring high transaction costs. Easy options for making remittances, motivating greater savings, access to credit at fair terms and, access to appropriate insurance schemes. |
| Social security | The ability of the migrant worker to access social security benefits provided by the government at the destination; and the continuing ability of those left behind to access theirs. Leveraging SHG networks to ensure that distance does not prevent women and the elderly from accessing their entitlements. |
The global perspective
The 2030 Agenda for Sustainable Development recognizes for the first time the contribution of migration to sustainable development. Migration is a cross-cutting issue, relevant to all of the Sustainable Development Goals (SDGs). 10 out of 17 goals contain targets and indicators that are relevant to migration or mobility. Of particular significance is target 8.8: Protect labour rights and promote safe and secure working environments for all workers, including migrant workers, in particular women migrants, and those in precarious employment, under SDG 8 – Promote sustained, inclusive and sustainable economic growth, full and productive employment and decent work for all. The New York Declaration for Refugees and Migrants, adopted by the Global Compact for Safe, Orderly and Regular Migration (GCM) provides the globally accepted framework for this. The proposed intervention can be seen as a micro-level effort to contribute to the global efforts.
Incidence of migration and Number of migration dependent households
Gram Vikas will focus on the safe migration programme in selected Blocks of Ganjam, Gajapati, Kalahandi, Kandhamal, Nayagarh and Rayagada districts in Odisha. From various studies and assessments, we have been able to gauge the incidence of inter-State migration from these locations.
Rapid Assessment to gauge effects of COVID-19 on migrant workers
| | |
| --- | --- |
| Districts Covered | Ganjam, Gajapati, Kalahandi, Kandhamal, Nayagarh, Rayagada |
| No. of GPs covered | 67 |
| No. of Villages covered | 172 |
| Total HH in these villages | 11,339 |
| Number of migrant workers identified | 1,313 |
| Number of migrants who have returned | 477 |
| Number of  migrants at workplace | 836 |
| Average age of the identified migrant workers | 28 |
Source: Gram Vikas COVID-19 Response Village Survey March-April 2020
Based on the data from the rapid assessment, the percentage of households in a village dependent on migration to workplaces outside Odisha has been calculated.
(Data from 172 villages and 11,339 households)
| | | |
| --- | --- | --- |
| % of households with migrant workers | Number of villages | % of total number of villages |
| Less than 5% of households | 43 | 25% |
| Between 6% to 20% of households | 103 | 60% |
| Between 21% to 50% of households | 20 | 12% |
| More than 51% of households | 6 | 3% |
| Total | 172 | |
Source: Gram Vikas COVID-19 Response Village Survey March-April 2020
Preliminary data from the in-depth Block Migration Profile exercise being carried out in Thuamul Rampur block of Kalahandi indicate the following situation:
Household Migration Rates, Thuamul Rampur: 2019-2020 (Per 100 households)
| | | | | |
| --- | --- | --- | --- | --- |
| Migration Stream | SC | ST | OBC  | Overall |
| Inter-District Migration* | 23.8 | 16.3 | 26.7 | 19.8 |
| Inter-State Migration | 20.5 | 16.3 | 25.0 | 18.6 |
| Migration History in Last 10 Years | 40.2 | 29.1 | 42.0 | 33.9 |
| Sample Households(N) | 122 | 258 | 60 | 440 |
Source: Gram Vikas-CMID Household Migration Survey 2019-20 (Provisional Estimates)
* Inter-District migration also includes Inter-State migration
The study on seasonal labour migration and migrant workers from Odisha by the Centre of Migration and Labour Solutions is among the few sources of existing information about the incidence of migration from the State. Of the districts being covered here, only Nayagarh was profiled in the study.
Based on Gram Vikas' existing outreach capacities and the presence of high out-migration areas, the Safe Migration Programme is to be undertaken in 22 selected blocks of six districts of Odisha.
Table – Demographic profile of the area selected for the Safe Migration Programme
| | | | | | | | | |
| --- | --- | --- | --- | --- | --- | --- | --- | --- |
| District | Number of Blocks | Number of GPs | Number of Villages | Total HH | Total Population | ST % | SC % | Others % |
| Gajapati | 5 | 121 | 1,266 | 96,438 | 4,34,822 | 61% | 5% | 33% |
| Ganjam | 6 | 138 | 895 | 1,82,689 | 8,30,622 | 8% | 21% | 71% |
| Kalahandi | 2 | 50 | 700 | 52,209 | 2,17,657 | 43% | 25% | 32% |
| Kandhamal | 4 | 64 | 908 | 58,698 | 2,58,023 | 59% | 10% | 31% |
| Nayagarh | 2 | 42 | 640 | 49,322 | 1,89,371 | 20% | 19% | 60% |
| Rayagada | 3 | 49 | 274 | 46,705 | 2,04,422 | 68% | 8% | 24% |
| Grand Total | 22 | 464 | 4,683 | 4,86,062 | 21,34,917 | 35% | 16% | 49% |
Based on the number obtained from the various sources, an estimate of the number of migrant workers in the six districts have been assessed.
| | | |
| --- | --- | --- |
| District | HH Migration Rate | Estimated number of migrants |
| Gajapati | 17% | 16,282 |
| Ganjam | 10% | 19,085 |
| Kalahandi | 20% | 10,442 |
| Kandhamal | 22% | 12,747 |
| Nayagarh | 18% | 8,878 |
| Rayagada | 20% | 9,418 |
| Total | 16% | 76,851 |
Safe Migration Programme – Preliminary Plan of Action
The focus of the Safe Migration programme will be on men and women aged between 15 year to 35 years – the population that is likely to migrate. The Programme is not intended to glorify migration as a livelihood option. It is our position that the decision to migrate should always be taken based on the person's assessment of the adequacy and appropriateness of the opportunities within one's native village to provide her/him a dignified livelihoods. The decision to migrate cannot be made out of desperation; it has to be a conscious and informed decision that is made for the upliftment of the person and her/his family.
Coverage
The Safe Migration Programme will be taken up in 22 Blocks of six districts listed in the table above. It is expected to directly benefit about 75,000 households (3,00,000 persons) that depend on migration as an important source of livelihoods. The overall effect of the programme is expected to benefit 5,00,000 households in 464 Gram Panchayats.
Objectives
The Safe Migration Programme has the following objectives:
Create community-level capabilities, institutional systems and processes to enable informed migration decisions by workers and their families; and provide social protection to the staying behind families of migrant workers
Create a migrant support system to provide information and decision support systems; facilitate access to information about job opportunities and, reduce the stress in travel and financial transactions
Promote skill building of men and women, to enable better employment opportunities, both locally and when migrating.
Create an interface mechanism between the migrant workers and their families and communities with the local, district and higher level of administration for ensuring access to entitlements and social security schemes
Build partnerships with specialised agencies and programmes at different migration destinations for information sharing, access to employers and skill building opportunities, ensuring access to entitlements and grievance redressal and, ensuring access to healthcare and safe and good quality living conditions.
Intervention strategy
The Safe Migration Programme will be implemented through a community-centric system having the following components.
Village level institutional platforms for coordination and convergence with local authorities – every GP and village will have an institutional mechanism representing village leaders, women self-help groups and representatives of migrant worker families.
GP level Migrant Registry for real-time information on migrant workers.
Community migration support facilitators to act as coordinators for village, GP and block level activities – These cadre will be trained and deployed @ one person per GP
Migrant Support Centres at Rayagada and Brahmapur (the key transit points for migrants from the project areas), and in Thrissur in Kerala (the key destination level transit point for workers in Kerala)
Information and Communication Technology applications for improved communication, data management, grievance redressal and helplines
Tie-up with support organisations at destinations for extending direct support to workers
Partnerships with skill training institutions, legal service authorities and industry associations
Convergence with Odisha Livelihoods Mission, Mission Shakti and Labour Department
Preparation of Vulnerability Index of households to understand causative factors and prepare strategies for mitigation
Block level Migration Profiles in selected blocks to understand and document the issues related to inter-State migration
Activities
The Safe Migration Programme will take up activities for the following:
Occupational security related
Source level Activities
Destination level Activities
·     Source level community orientation and information sharing on migration related matters

·     Gram Panchayat level migrant registry system

·     Support for safe and good quality living conditions

·     Employer outreach for placements and resolving work related issues

·     Skill development activities

·     Use of technology to provide job related Information

·     Support for legal assistance when needed

·     Help with tracking children of migrants in schools and promotion of retention in destination
Emotional security related
Source level Activities
Destination level Activities
·     Strengthen self-help groups of women

·     Support to children for better academic and co-curricular performance

·     Provide health information and linking to quality and affordable healthcare

·     Provide follow up services for treatment adherence and clinical access

·     Provide psycho-social counselling support

·     Use of ICT for communication between migrants and families in areas with limited mobile /phone connectivity
Financial security related
Source level Activities
Destination level Activities
·     Strengthen self-help groups of women from migrant families to strengthen household savings

·     Financial Literacy and awareness activities to prevent/reduce indebtedness

·     Coordination with financial institutions for appropriate migrant-friendly products for life insurance, health insurance, savings and remittances
·     Coordination with banks/FIs to improve access to banking services
Social security related
Source level Activities
Destination level Activities
·     Partnerships with local authorities and organisations for registration, social protection etc. of workers and staying behind families

·     Convergence with government programmes for social security

·     Facilitate government coordination to access social security benefits
Preparatory and Support Activities
·     Preparation of Block Migration Profile

·     Vulnerability assessment and preparation of household vulnerability index

·     Scoping studies at different destinations for situation assessment and opportunity mapping

·     Setting up of Migrant Resource Centres – two in Odisha and one in Kerala

·     Identification, training and deployment of GP level facilitators

·     Partnership agreements with other agencies
Partnerships
Gram Vikas will coordinate and manage the Safe Migration Programme in Odisha. We will forge partnerships with other organisations working on issues of migrants. Centre for Migration and Inclusive Development, Kerala (CMID) has been supporting us from the early days of the programme design. This partnership will be further strengthened and CMID will be the key partner for Gram Vikas in the implementation of the Programme.
The partnership with ESAF Small Finance Bank is being envisaged to enable greater financial inclusion and access to banking and financial services both in the villages and for workers in their work locations.
We have had initial rounds of discussions with Aajeevika Bureau to help understand the issues faced by migrants from Odisha to Gujarat. As the work progresses, we expect that this partnership will take a stronger shape. We will also collaborate and learn from organisations that work on labour rights and human justice issues.
Budget Estimate
The Safe Migration Programme is estimated to cost about ₹ 3.56 crore during the first 12 months. This includes the costs related to institution and capacity building in the selected GPs, training and deploying community migration facilitators, operations of three migrant resource centres and skill building pilots for 250 persons. Programme management and overheads are also included.
Annexure
Demographic Profile of the Selected blocks
#
Block
Number of GPs
Number of Villages
Total HH
Total Population
ST %
SC %
Others %
Gajapati District
1
Gosani
22
135
18,913
75,545
15%
16%
69%
2
Gumma
20
220
18,185
83,588
76%
4%
21%
3
Mohana
39
504
28,913
1,37,319
59%
4%
37%
4
Nuagada
19
181
11,845
57,038
81%
1%
18%
5
Rayagada
21
226
18,581
81,332
78%
3%
19%
Ganjam District
6
Chikiti
17
127
23,417
1,07,320
3%
29%
68%
7
Digapahandi
25
202
32,631
1,48,213
6%
16%
78%
8
Jagannathprasad
25
145
33,318
1,42,498
6%
24%
70%
9
Kukudakhandi
22
79
28,694
1,37,590
5%
25%
71%
10
Patrapur
23
295
30,049
1,35,700
13%
15%
72%
11
Sorada
26
47
34,580
1,59,301
11%
21%
68%
Kalahandi District
12
Lanjigarh
26
425
33,414
1,39,723
35%
25%
40%
13
Thuamul Rampur
24
275
18,796
77,934
57%
25%
18%
Kandhamal District
14
Baliguda
14
256
12,808
55,695
63%
8%
30%
15
Daringbadi
25
269
22,605
1,04,388
62%
8%
31%
16
K Nuagaon
14
178
13,385
53,976
52%
9%
40%
17
Tumudibandh
11
205
9,901
43,964
59%
17%
24%
Nayagarh District
18
Daspalla
20
405
25,299
94,635
29%
21%
50%
19
Nuagaon
22
235
24,023
94,736
12%
17%
71%
Rayagada District
20
Gunupur
19
114
16,940
75,683
78%
5%
17%
21
Kolnara
17
47
16,780
74,040
70%
10%
20%
22
Padmapur
13
113
12,986
54,699
51%
10%
40%
Total
464
4,683
4,86,062
21,34,917
35%
16%
49%
Community meeting on safe migration in Thuamul Rampur, Kalahandi, Odisha. Photograph by Ajaya Behera.
ACKNOWLEDGEMENT
The migrant workers from our partner villages, whose hard work, resilience and lives inspired this programme.
ABOUT THE AUTHOR
Liby Johnson is the Executive Director of Gram Vikas. Benoy Peter is the Executive Director of Centre for Migration and Inclusive Development.