Self-Help group revives traditional millet, supports youth education and supports for other emergencies in the village
Story
By Chandrika Patnaik, Jannatun Begum, Sanjay Baral
20 January 2021
A group of 12 women organise in a self help group, save for a year, and access credit to improve their lives and invest in their village.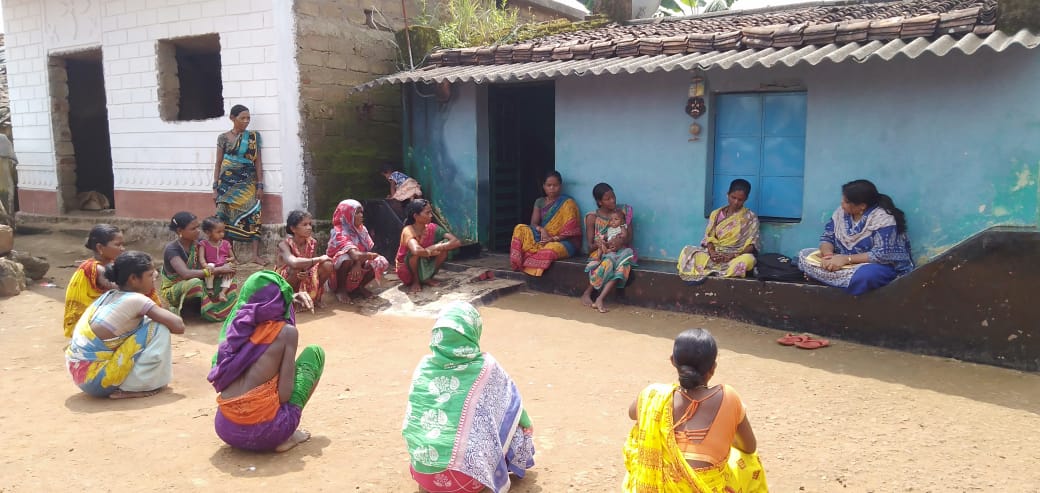 Women members of the Maa Mahalakshmi Self Help Group in Maligaon village of Kalahandi district on their monthly meeting.
Photograph by Sanjay Kumar Baral
"If not by blood, all of us are united as a family because of this group. Since we started, four years ago, we have never missed a monthly meeting. Our brothers and husbands support us a lot." says Gomti Jhodia, Secretary of the Maa Mahalakshmi Self Help Group in Maligaon, Kalahandi of Odisha.
In December 2016, twelve women in Digribandha village, with support from Gram Vikas, got together to form the Maa Mahalakshmi SHG. The members encouraged each other to save ₹20 every month. Instead of the usual internal lending that SHGs do, the women decided to pool the money to start an enterprise. About a year later, the women's initiative and self-confidence convinced the Odisha Livelihood Mission (OLM) to sanction the group a loan of ₹50,000 in February 2018.
The SHG members decided to invest the money from OLM into farming. The same month, they leased three acres of land for ten years for a sum of ₹5000. In May 2018, the group spent ₹7000 to hire tractors and purchase manure to prepare the land to grow millets. Each member contributed 4 kilogram-seeds of Suan or Little Millet for sowing in June. Three months later, in October, the group with support from their family harvested eight quintals of Suan. The women sold the produce in the village for ₹25 per kg making a profit of ₹13,000. The following year, they grew maize and in June 2020, again they cultivated Suan.
Maina Jhodia, President of Maa Mahalakshmi, talks about the confidence they got from the loan, "This loan helped us in many ways, like helping people in need of money during an emergency and boosted our confidence to take up farming and become successful farmers. By cultivating this cereal, we have been able to bring it back as a profitable crop for those farmers who want to invest in it. In some ways, our efforts to grow Suan has helped bring back a fast disappearing, traditional grain as part of people's diet."
The women are strongly motivated by a need to give back to the community and share. As another group member, Radha Devi says, "Through this group, we will fight social taboos and ensure social justice and equity to widowed women, and coordinate with government agencies to get ration, old age pension and other entitlements for those who have been left out."
Gomti Jhodia and Maina Jhodia are educated and capable enough to maintain details of all lending and borrowing and other record keeping happening in the group and the group does not have to depend on outsiders for documentation work.
Maina echoed Radha and elaborated on how the group used the money for more than just farming, "The point is we are here to help ourselves and people of our village in need of financial support. In February 2018, we were really happy to give a ₹7500 loan, with minimum interest, to four youngsters appearing for their final Grade 10 exams. They also needed the money to enrol for Grade 12. Again in December that year, when Basa Jhodia's wife met with an accident, we immediately gave the amount requested by him for his wife's treatment."
Maina Jhodia, President of the Maa Mahalakshmi Self Help Group with her child.
Photograph by Sanjay Kumar Baral
ACKNOWLEDGEMENT
Priya Pillai and Ganesh Chakravarthi edited the story.
ABOUT THE AUTHOR
Chandrika Patnaik leads on content production within the Communications team, Jannatun Begum is a Junior Manager, and Sanjay Baral is a Senior Supervisor at Gram Vikas.