Teachers in residential schools for Adivasi children in Odisha become certified NIIT trainers
Story
By Danish Seth
18 January 2022
Danish Seth, a SBI YFI Fellow, spent a year at Gram Vikas Residential Schools for Adivasi children to implement the Science and Technology Oriented Research Methodologies in Teaching (STORM) initiative. It supported 63 teachers to become certified NIIT trainers in basic IT and social media skills. They now use these to develop learning materials in the local language to teach their students.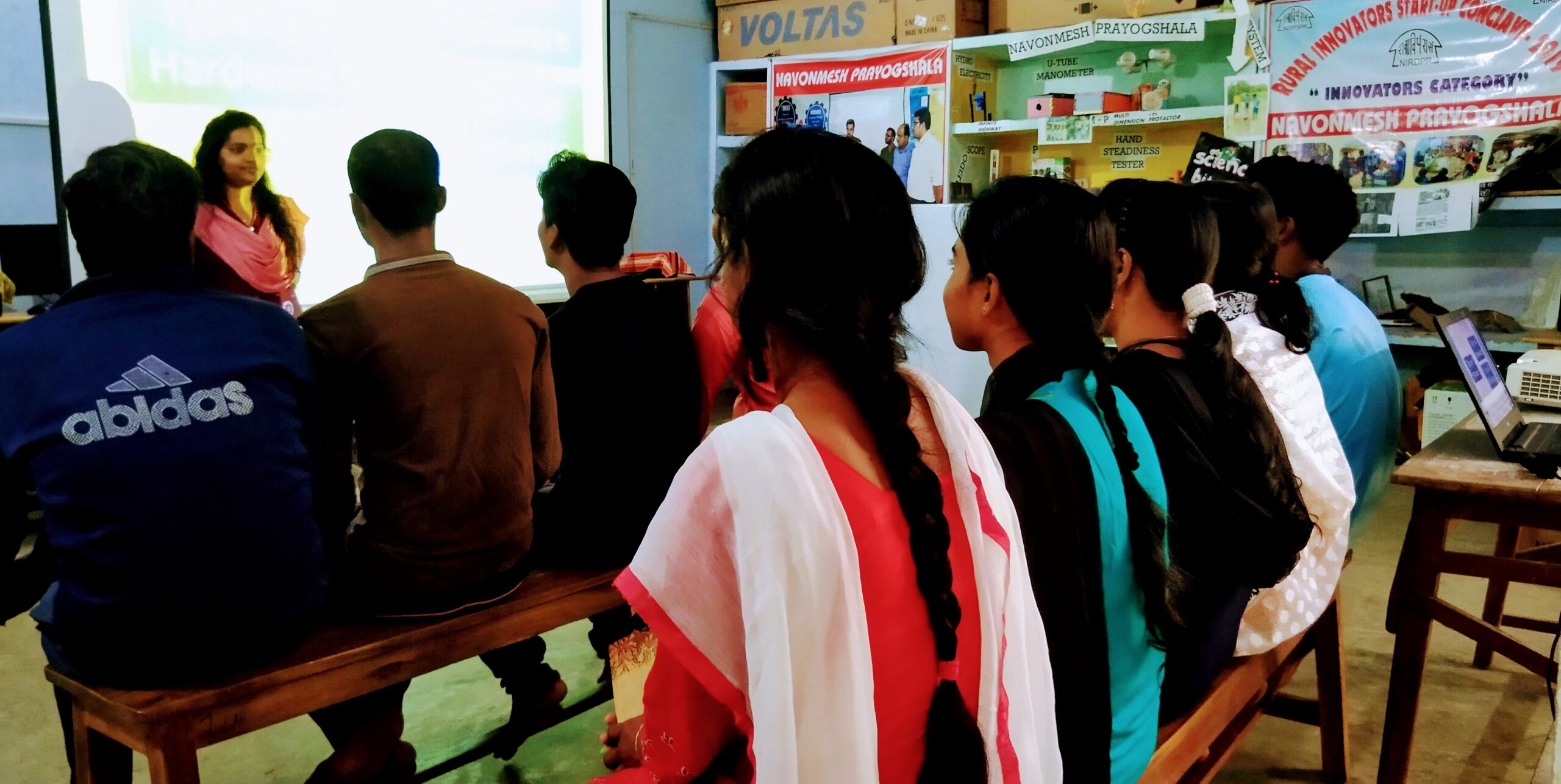 Teachers of Gram Vikas Residential Schools undergoing training to become certified NIIT trainers.
Photograph by Chandrika Patnaik
As a teacher and an entrepreneur, I have run my coaching institute to provide quality-oriented education to the young minds of this vibrant nation. My keen interest in contributing to the cause of education led me to try my hand as a State Bank of India (SBI) Youth for India Fellow. 
The fellowship provided me with an opportunity to support teachers in the four residential schools of Gram Vikas, a community development organisation. The schools are in the Ganjam, Gajapati, and Kalahandi districts of Odisha. My time in these schools gave me the space to identify my core interests and aid me in the process of delivering them effectively and efficiently.
My project started with field visits to Gram Vikas schools, after which I began to plan for the next year to achieve my goal of providing digital education. I started talking to the teachers at Gram Vikas High School in Kankia in the Kukudakhandi block in Ganjam district  of Odisha. It was a relatively easy task as most of them were of my age and looked at me as a close friend. They shared their journey of choosing their profession and shed light on different policies on education, which impacted their livelihood. 
Sometimes, I would encounter teachers with far greater experience who eventually opened up and shed light on their unique lens and ideology of thought. One of them expressed their desire to earn a computer certification with outstanding merit. 
Having completed my post-graduation in computer science, I saw this as an opportune moment to impart digital education on three certificate courses in Introductory Information Technology (IT), Active Basic IT, and Social Media. The teachers wanted tangible outputs to show from such training, "We should get something, like certificates, to show to someone that yes, we are also digitally literate," said Binmaya Kumar Mahapatro, a mathematics teacher. I held different meetings with the school administration and the staff of Gram Vikas. Mr. Debendranath Dash, the Principal of Kankia school, and Mr. Vinit Kumar, Quality Controller of Education and Life, Gram Vikas Residential Schools, were especially helpful in guiding me to take this forward.
Pertinently, during one of my conversations with a teacher, I learned about Gram Vikas' collaboration with NIIT Foundation, one of the most impactful organisations working on education in India. The Foundation has an established eligibility protocol that requires trainers to pass an exam as a prerequisite to teaching their material to others. I had to train one teacher each from two schools of Gram Vikas. It would allow the teachers to gain authorisation, post-exam, to teach their peers at their schools.
It was a challenge since I had to train teachers whom I had never interacted with and who, coming from different schools, did not possess any prior computer skills. They regularly experienced sporadic internet connectivity and were unable to attend Zoom calls due to the school's location in remote habitations in Odisha. 
I persisted and held an informal online meeting to introduce myself and my aim and host conversations centering around their interests and current knowledge. I conducted regular, intensive classes through Zoom or Google Meet to provide theoretical knowledge and practical experience in the skills they desired to acquire. Ultimately, along with Pritiparna Sahoo from Kankia school and Nazima Begum Bibi from Vidya Vihar, I was certified as a trainer from NIIT foundation. We learned to use MS Word, Excel, PowerPoint, and social media networks such as LinkedIn and blogging.
The certification marked my first victory in equipping them with routine digital tools. Ms. Sahoo, a Computer teacher at the high school in Kankia, said, "This is the first certificate that I have earned from a faculty trainer. Now I feel delighted and proud of my achievement and hard work."
In three months, 63 teachers, from the four residential schools in Ganjam, Kalahandi, and Gajapati, got certified as trainers. They overcame the odds of unstable electricity and network connectivity to achieve this. Once electricity went out, it would only resume after 5-6 days on average. Until then, the school authorities had to adjust with solar panels. 
These difficulties, however, did not hamper the spirits of the teachers to learn and excel. For instance, if they had doubts, they travelled to the nearest "Hello Point", a place where mobile connectivity was stable enough for a call. These points could be 1.5-4 km away from the school. The consistent, enthusiastic, and enduring attitude of the teachers encouraged me to support them in any way I could.
Through grit and perseverance, all the teachers from the four schools passed the certification with outstanding merit. The results made them happy and eager to learn more. Even though they were teachers with specific expertise in their respective subjects, they had been my students. Negating their age, they had worked day and night with determination, courage, and a can-do attitude to achieve their desired abilities.
I was even more delighted to notice that teachers from Kankia were designing their learning material in their mother language, Odia, to help students understand such concepts. It would also build their capacities in using them for their academic work, such as making PowerPoint presentations or excel documents.
My experience with the teachers of Odisha reminded me of Mahatma Gandhi's words, "Be the change you want to see in the world." The training not only certified their position but strengthened them to fight the odds, invest in teamwork, and develop the attitude to succeed. I am sure that this experience will inspire students to excel in their respective fields in the future.
Gram Vikas High School, Kankia
Photograph from Gram Vikas Photo Archive
ACKNOWLEDGEMENT
Hameeda Syed edited the feature with inputs from Priya Pillai and Sangita Patra.
ABOUT THE AUTHOR
Danish Seth was a SBI YFI Fellow with Gram Vikas from September 2020 to August 2021. He implemented the Science and Technology Oriented Research Methodologies in Teaching (STORM) initiative at Gram Vikas Residential schools during this time.