The Springs Initiative
Feature
By Ashutosh Bhat
30 September 2020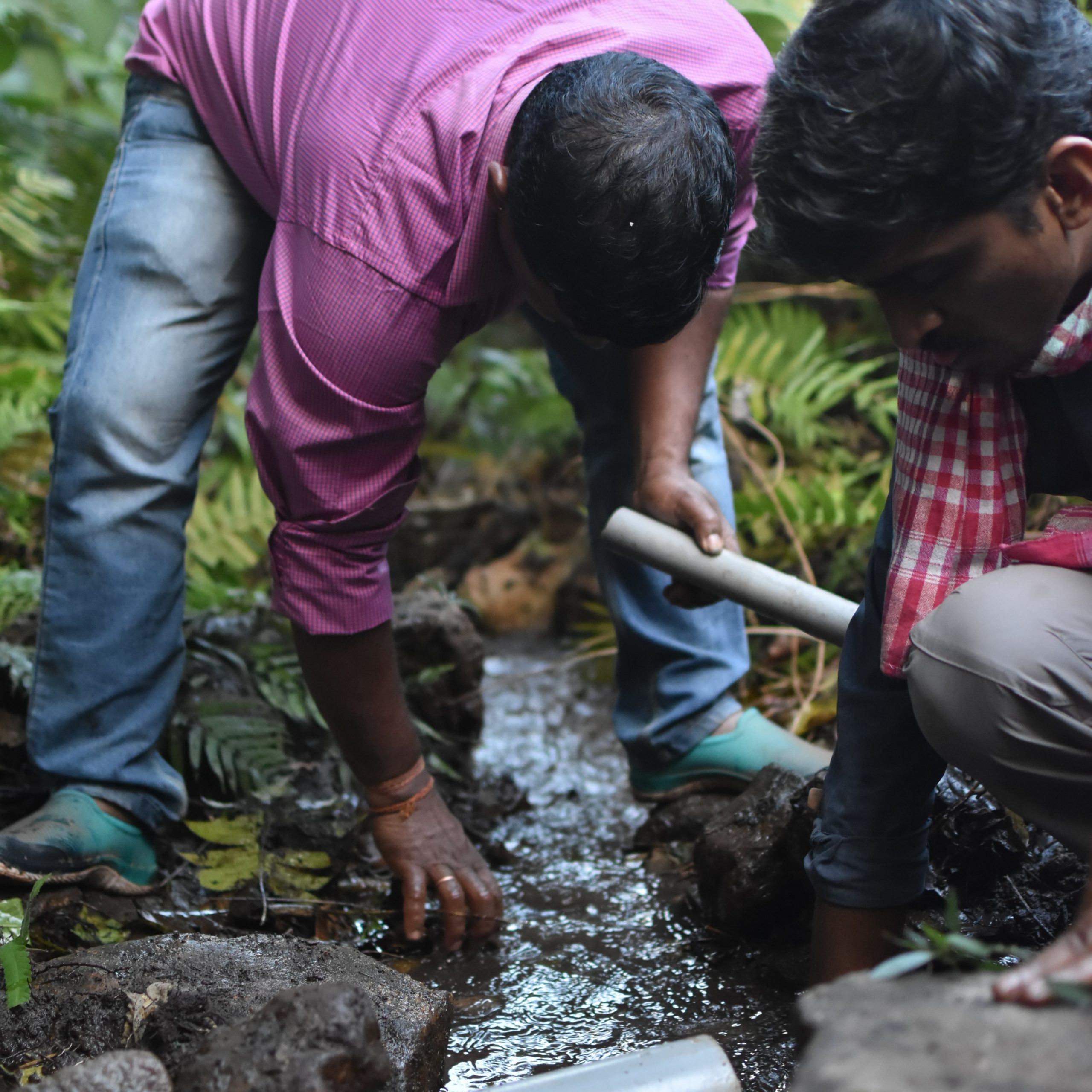 Cadres learning how to conduct discharge measurements for a water source. Photograph by Ashutosh Bhat.
Finding access to a reliable water source has been a perennial challenge for the Scheduled Tribe communities of rural Odisha. Tackling this issue in a multipronged manner, till date, Gram Vikas has helped in building community-owned and managed piped drinking water systems in 1,243 habitations across the states of Odisha and Jharkhand. Of these, 518 habitations have natural springs as the primary source of water.
However, over the years, there is a marked variation in the rainfall pattern, changes in land use and reduction in the forest cover. As a result, some springs have dried up, while some have become seasonal with low discharge. Overall, we observed a substantial reduction in the fow of natural springs. We also noticed visible changes in the quality of water across different water sources.
Considering this anomaly in accessing water by local communities, Gram Vikas decided to embark on an initiative to protect and harness natural springs as a sustainable water resource. The Springs Initiative began in October 2019. It focuses on building capacities of local communities in providing the utmost care for the sustainability of water sources. It consolidates this narrative by creating awareness on the role of hydrogeology and balancing the supply-demand dynamics of spring water resources. These efforts are fortifed by training village cadres to protect and develop springsheds and watersheds.
Gram Vikas identifes village youths and trains them as parahydrologists for assisting in the Springs Initiative. The assistance by para-hydrologists is provided for implementing land development and plantation activities in the recharge and discharge areas of the spring water catchment area. The traditional knowledge of local communities is respected as it harmonises with the use of modern practices like spring discharge measurement, rainfall monitoring, hydrogeological survey, aquifer mapping, water quality surveillance and geotagging. These measures enable Gram Vikas in identifying and managing spring water sources located in remote habitations.
More than 150 youths from the communities of Kandhamal, Kalahandi, Ganjam and Gajapati districts were trained as parahydrologists. Gram Vikas conducted the training in association with the Advanced Centre for Water Resources Development and Management (ACWADAM), Pune. The training was thematically built around concepts such as the science behind springs, management of springs, principles of hydrogeology and the role of local communities in managing groundwater resources.
Equipped with a mobile application, the para-hydrologists can perform the critical work of mapping and inventorying springs. The data captured by the mobile application can be accessed through an online dashboard. The data also helps to observe and record key parameters of the status of springs, such as its discharge rate, seasonality, the quality of water and other hydrogeological factors.
The data is collated on a GIS-based online portal, www.thespringsportal.org, that has been specially designed to maintain the repository of data gathered under the Springs Initiative and present it in a multimodal form. As of 31 March, 2020, Gram Vikas mapped 408 springs across 77 habitations and 28 watersheds.
The different land development measures such as gully plugs/loose boulder check dam structures, contour trenches and water absorption trenches in the catchment area have helped in reducing surface runoffs. These measures also prevent soil erosion, thus allowing water to percolate and recharge the aquifers feeding the springs. On a brighter note, the Springs Initiative has resulted in a deepening of the soil moisture, thus creating a possibility of practising the second crop for the local farmers.
The Spring Initiative also carries a ripple effect on other water-related interventions of Gram Vikas. With support from UNDP (India) and InterGlobe Foundation, Gram Vikas has implemented the communitybased Spring Water Supply System in selected habitations of
Gajapati, Ganjam, Kandhamal and Kalahandi districts.
Young men from the communities undergoing training as parahydrologists. Photograph by Ashutosh Bhat.
ACKNOWLEDGEMENT
Rammohan Khanapurkar edited the feature.
ABOUT THE AUTHOR
Ashutosh Bhat is the Manager for thematic areas of Water and Energy in Gram Vikas.