UDAN helps unemployed tribal youth become skilled masons
Story
By Chandrika Patnaik
2 February 2020
Upskilling of young women and men from tribal habitations, vulnerable to natural disasters, support large scale habitat reconstruction while creating improved livelihood opportunities.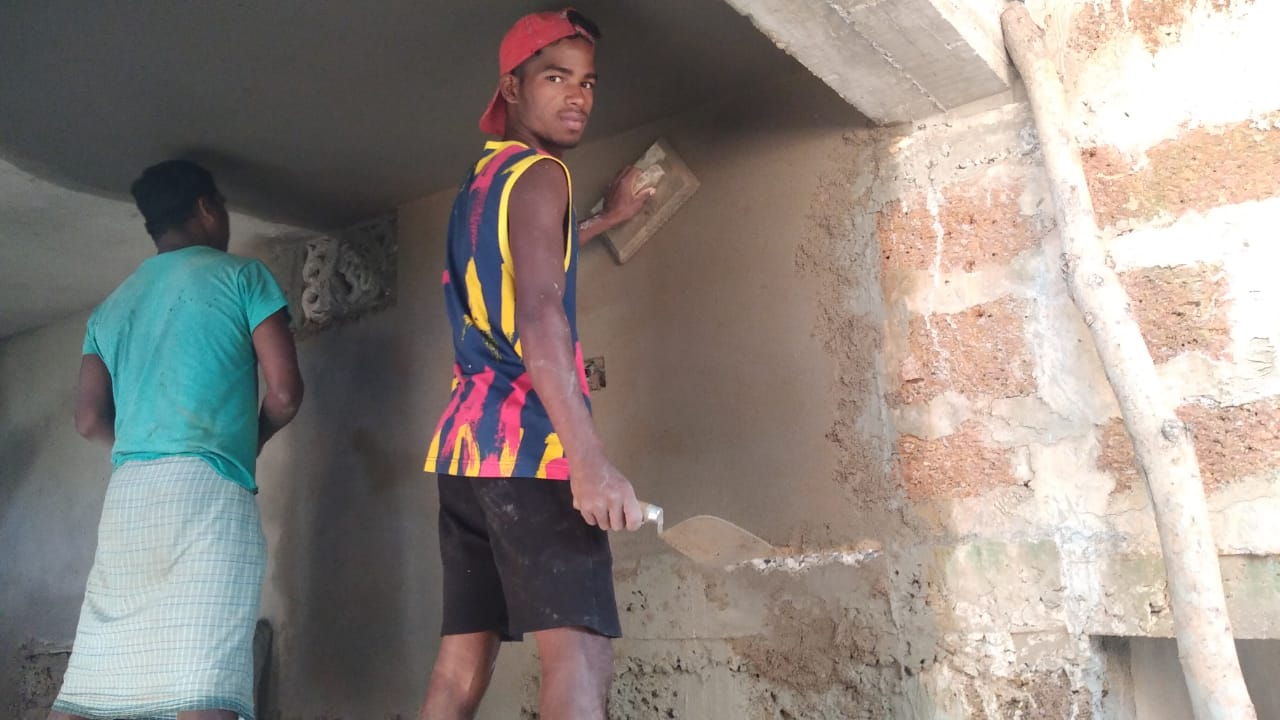 John Hembram is now a skilled mason who earlier worked as labourer.
Photograph by Aswini Behera
John Hembram completed his Class X in 2015 from Government High School, Chandaka, in village Phirkinali in Odisha's Khordha district. He wanted to study further, but his parents, both daily wage labourers, could not afford to pay for him to go to college. They wanted him to start earning soon so that he could support the family. It was hard for the family to get by with only the irregular income from the wage work. John's three elder brothers had moved out of the house after their marriage and lived separately.
Phirkinali is a small habitation of 72 households of the Adivasi community, Munda, situated within the Chandaka Reserve Forest. The nearest city, Bhubaneswar, is about 15 km away. Most men and women from the village work in construction sites in Bhubaneswar. They find work through the labour contractors who allocate work to them as per the need and availability.
John decided to go to work as a construction labourer. For four years, he went to different work sites in Bhubaneswar, along with other men and women from his village, in an autorickshaw sent by the contractor to Phirkinali. He carried bricks and cement bags for ₹250 – 300 a day.
On 3 May 2019, the cyclonic storm Fani hit Odisha, causing widespread damage to 15 million people. Khordha was one of the 14 districts to be severely affected. Cyclone Fani destroyed more than 75% of the houses, made of thatch and mud, in Phirkinali. The only fair-weather mud paths connecting the village to the main roads were damaged and filled with debris.
The Gram Vikas Cyclone Fani Response team responded quickly with relief and rehabilitation measures. In December 2019, LIC Housing Finance Limited partnered with Gram Vikas to launch the Urban Development Action for Neighbourhood (UDAN) project in seven Fani-affected villages in Khordha to enable pathways to sustainable livelihoods.
In January 2020, John enrolled in the mason training course organised by Gram Vikas as part of UDAN. Twenty women and men from Phirkinali underwent mason training for two months. Soon after the lockdown lifted, and as construction picked up, the newly trained masons started finding work at much higher pay. John says he sensed a good opportunity to earn better and improve his family's condition, "I get ₹550 a day and work as a mason. People in my village give me a lot more respect. I am happier today."
UDAN focuses on facilitating the up-skilling of unskilled workers in the construction sector through masonry training. It will create a pool of skilled masons to support the large-scale habitat reconstruction. Besides, in the long term, the trainees will be able to take advantage of the increasing opportunities in the construction sector.
John doing the cement plastering work at the construction site.
Photograph by Aswini Behera
ACKNOWLEDGEMENT
Aswini Behera helped with field data collection. Priya Pillai edited the story.
ABOUT THE AUTHOR
Chandrika Patnaik is a Junior Manager, Communications, with Gram Vikas.