User-centred design accelerates adoption of behaviour change in child faeces management
Story
By Chandrika Patnaik
1 April 2020
Gram Vikas is promoting safe handling and disposal of child faeces using model hardware that keeps the surrounding clean and family safe from diseases. Sandhyarani starts to adopt the behavior change initiative and inspires others in her community.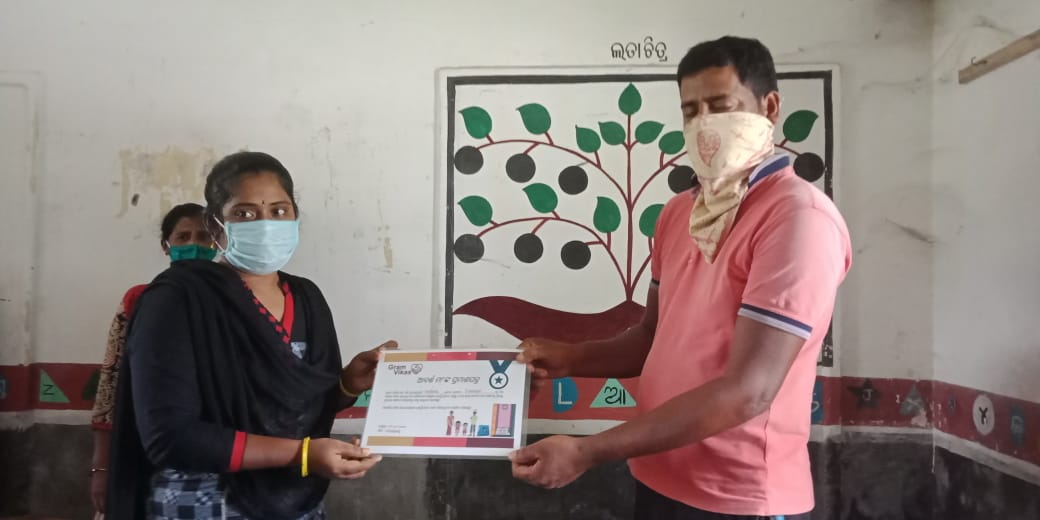 Sandhyarani felicitated as an "Ideal Mother" for inspiring other caregivers in her community in Jaleripentho village.
Photograph by Prashant Kumar Naik.
Last October, Jaleripentho village felicitated Sandhyarani as an "Ideal Mother" for inspiring other caregivers in her community to practice safe disposal of child faeces. Sandhya is delighted that her young daughter is potty trained, "I am really happy to tell you that my two and a half year old daughter prefers the wooden hardware more than sitting on a piece of paper. Please have a look at our clean backyard. It was earlier strewn with paper, faeces and flies flying all over the place!" Her leadership is one of the early successes from Gram Vikas' initiative to influence behaviour change in safe child faeces management (CFM) in 80 villages of Odisha.
The programme aims to change a dominant belief among the people that the faeces of infants and young children are harmless. The gains in the behaviour change programme, which started in 2019, are reinforced by the creation of novel CFM hardware – a wooden potty – made available for use at the household level.
In September 2020, the Gram Vikas team visited Sandhyarani's village, Jaleripentho, in Rangeilunda block of Ganjam district, for a survey and found that most families practiced unsafe disposal of child faeces. The following month, the team met with 39 primary and secondary caregivers of infants and children (0 to 5 years) to discuss methods for safe disposal of child faeces. They talked about hand washing with soap after defecation and before preparing or eating food. The team then visited Sandhyarani's house with the newly designed, wooden potty for young children. They spoke to her mother-in-law, Rajeshwari, about open defecation exposing her 2.5 year old grandchild to diarrheal disease, intestinal worms or stunting from a young age. They showed her how to use the new potty and encouraged her to try it with the child. It took more than a week for them to adopt it.
A week later, Rajeshwari, the mother-in-law, still unconvinced, continued to use a piece of paper for her granddaughter to defecate on. The team asked her to help the child use the hardware. Rajeshwari's initial reluctance had passed and she now saw the benefits of adopting the hardware. "Earlier, if the paper was not big enough, the faeces touched my hands. This model helps us in flushing the faeces directly into the toilet without touching it. I find this convenient, clean and very helpful. The child has no problems sitting on it."
Demonstration on the use of the new model of toilet for children.
Photograph by Prasanta Kumar Naik
ACKNOWLEDGEMENT
Debaraj Sahu supported in the story collection. Ganesh Chakravarthi edited the story.
ABOUT THE AUTHOR
Chandrika Patnaik leads on content production within the Communications team.