Women collectives reap the rewards of cooperation and commitment
Story
By Chandrika Patnaik
18 October 2021
Members of four self-help groups in Nuasahi village came together to ensure water supply, light up the streets to make them safe at night, promote vegetable gardens and hygiene education, and run microenterprises.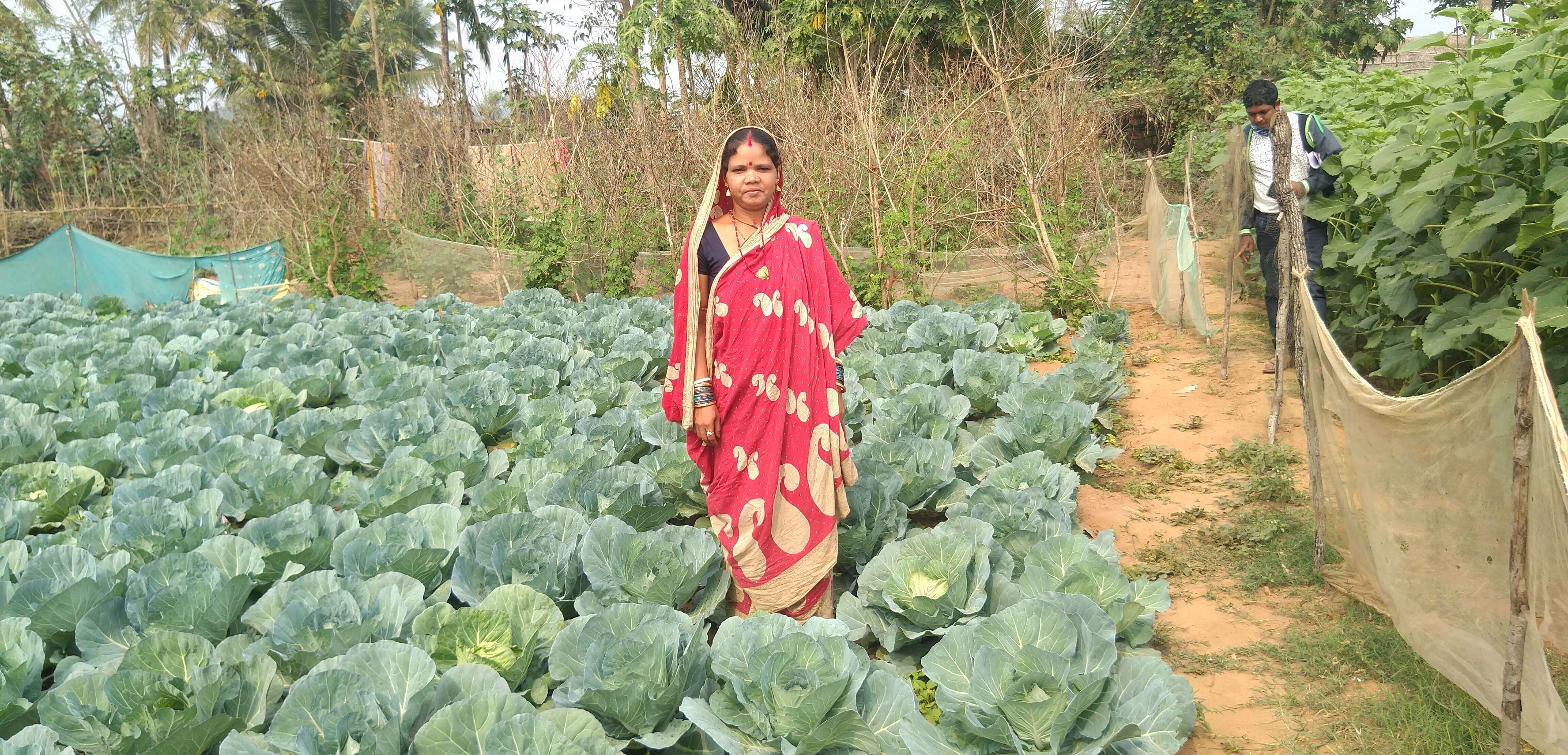 Mandakini's backyard garden is filled with vegetables.
Photograph by Santosh Kumar Padhy
The collective strength of women's groups are a highlight in Nuasahi village in Jagannath Prasad block in Ganjam district. Nayani Pradhan, President of Nuasahi Village Committee and Secretary of Maa Changudei Self-Help Group says, "A lot of development you see in our village is because of the women who insisted on change and stood together". The four SHGs of Nuasahi village have been working together to help better the lives of their communities.
"In November 2020, wild elephants trampled the pipes, and the piped water supply was disrupted. The village committee members did not take steps to repair the pipes. We got together and collected a fixed amount from each household after making an estimate of the repair work. After the collection was done, the committee members disbursed the money from the corpus fund for the repair work. The water supply to our homes resumed and the money we collected will be added to the maintenance fund." says Nayani Pradhan.
Member of Maa Harapriya SHG, Saraswati Pradhan adds, "That's not all. We had been requesting streetlights in our village for 5 years. In December 2019 we approached the Sarpanch of Tarasinghi Panchayat, and she approved our demand. Now we have six solar-powered streetlights in our village making it safer to walk around here after sunset. When a wedding ceremony or any festival takes place after sunset, the residents gather to have the feast under the streetlights."
Mandakini Pradhan, an Anganwadi worker and a member of Maa Harapriya SHG says, "I was trained as a WashPlus cadre in September 2019. I visit homes and motivate women to take up vegetable gardening in the vacant space behind their house. I have been growing a variety of vegetables in my backyard. The garden has supported my large family which includes my parents-in-law, my husband's brothers, and their families too. I am able to buy some groceries for my family from the surplus vegetables that I sell."
Nayani Pradhan adds, "During the pandemic lockdown, Mandakini stepped out of her house every day to create awareness among people in our village to observe COVID-19 safety measures. Weeks later, when the migrants started returning, she was deputed at the Covid centre quarantine facility at the Tarasinghi Panchayat for 28 days. She is the Paani Pago Mitra (weather station cadre) too and writes the forecast and advisory on the weather board every week. She has always walked that extra mile for us and for the village."
Laxmi Jani, a member of Maa Harapriya SHG and a member of the village committee says, "Earlier we used to sell sal leaf plates individually and the buyers took away the plates at a cheap price. Since the time the SHGs in the village have united, we have been able to demand our price. We stitch the plates, pack, and store them in a common storage space and sell them every two weeks during dry months. This has resulted in an increase in our earnings."
Learn more about our work in Village Institutions  :  https://bit.ly/2OeH5UP
Women of the SHGs in Nuasahi village.
Photograph by Santosh Kumar Padhy
ACKNOWLEDGEMENT
Reporting and photographs by Santosh Kumar Padhy. Ganesh Chakravarthi edited the story.
ABOUT THE AUTHOR
Chandrika Patnaik leads on content production in the Communications team.