Project Vibha: Community-led Rural Electrification and Lighting
Vibha, the community-led rural electrification and lighting project provides decentralised clean energy solutions in two districts of Odisha. It will provide solar home lighting solutions, revive an existing micro-hydro plant with a solar photovoltaic system, and enable grid integration to ensure continuous access to energy. The project will benefit 272 households from tribal and vulnerable communities in the remote villages of Kalahandi and Gajapati districts.
Project Vibha aims to provide 24×7 access to electricity and lighting solutions to ensure education and livelihood benefits to vulnerable, tribal communities in Odisha.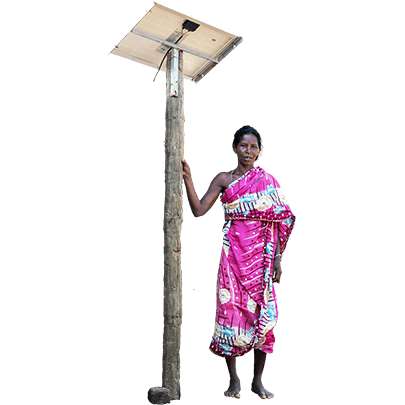 REACH
272 households
REGION
Gajapati and Kalahandi districts of Odisha
PROJECT STATUS
Ongoing
TIMELINE
November 2020 to October 2023
BUDGET
₹25 lakh
PARTNERS
SBI Foundation
ACTIVITIES
Conducting feasibility study to identify appropriate villages based on supply-demand ratio in the villages

Conducting field level surveys to collect data on power supply, presence of school going children, needs of people and their feedback on the use of solar energy appliances

Selection, procurement and distribution of appropriate decentralised energy solutions such as

250 solar lights to tribal families with school going children 

Conducting assessment and integration of micro hydro systems with solar photovoltaic cells 

Installation of power plant and grid integration

Setting up

pumping systems to give through the year access to irrigation facilities 

Awareness campaigns and capacity building of communities to promote productive end use of energy