Empowering Migrants for Building Resilience through Comprehensive Entitlements
The "Empowering Migrants for Building Resilience through Comprehensive Entitlements" project reached out to 31,300 households, who depend on migration to Surat as their primary source of livelihood. The migrant workers received handholding support in decision making, skill building, networking and access to government entitlements & social protection schemes.
The project aims to support migrant workers and their families to make conscious and informed decisions for a safe, secure and dignified migration experience.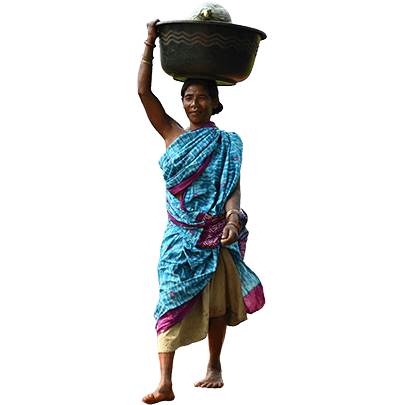 REACH
31,300 households in 114 Gram Panchayats
REGION
10 blocks of Ganjam district in Odisha
PROJECT STATUS
Completed
TIMELINE
December 2020 to November 2021
BUDGET
₹50.41 lakh
PARTNERS
Urban Management Centre
ACTIVITIES
Conduct surveys in 31,300 households from 114 Gram Panchayats, in 10 Administrative Blocks of Ganjam district in Odisha.

Train experienced migrants to become champions/mentors to other migrants, prospective migrants and their family members. An online version of community champions network will be formed, which will be accessible through phones.

Establish a Source Facilitation and Resource Centre (SFRC) in Berhampur, Odisha, as a one-stop centre to provide information and contacts for travel/transit, employment opportunities and accommodation in Surat. 

Establish a helpline, and train human resources for its operations.

Provide data entry operators and documentation support for entitlement applications for migrants and their families.
RESULTS
Enumerators and Community Champions were trained to conduct survey of migrant families, offer information and decision support, aid in job searches, ease travel and financial transactions, and enhance access to benefits and social security.
Survey was conducted of 8940 individual migrants and 31,300 migrant households  in the ten blocks of Ganjam district using the mWater Surveyor application.
Community Champions facilitated processing 3755 entitlements that included collection and submission of requisite forms, helping the migrant reach at the kiosk for Aadhar verification and linking to the entitlement. They also facilitated 556 E-Shram cards and 1410 Health cards for migrants and their families.
A one-stop service centre – The Shramik Bandhu Seva Kendra (SBSK) was set up in Berhampur. This provides information regarding jobs at the destination, supports in travel arrangements,  facilitates linkages to social protection schemes and entitlements. The centre also serves as a transit hub for the migrant workers who pass by the city. 177 migrants visited the SBSK seeking support for the above mentioned services.
A cloud based Bandhu helpline was set up for grievance redressal and addressing general enquiries. The helpline number received 619 calls and 839 calls went out for data collection, enquiries, information dissemination and follow ups.