Partnerships for Women's Empowerment and Rights (POWER)
The 'Partnerships for Women's Empowerment and Rights' (POWER), is a multi-stakeholder project focused on providing clean drinking water, household level toilet and bathing rooms, and hygiene education to rural communities under the leadership of the women. Gram Vikas is strengthening the village institutions with socio- technical knowledge. to motivate families, mobilise resources, and construct the infrastructure; and in future, operate and maintain the systems. POWER is being implemented in 105 villages of Mayurbhanj, Keonjhar, Kandhamal, and Rayagada districts in Odisha, and Gumla and Ramgarh districts in Jharkhand.
The project aims to improve the quality of life of rural communities with improved access to proper sanitation, safe drinking water facilities and allied livelihood needs.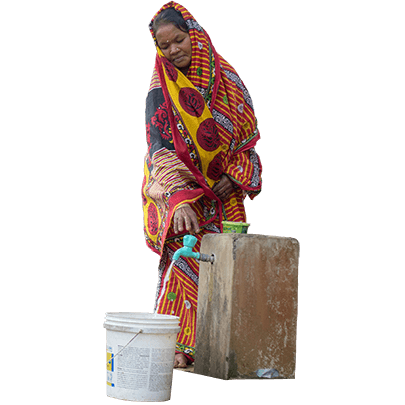 REACH
5,830 households, 104 villages
REGION
6 districts in Odisha and Jharkhand
PROJECT STATUS
Completed
TIMELINE
October 2013 to March 2019
BUDGET
₹ 9.10 crore
PARTNERS
PRADAN, Bill & Melinda Gates Foundation
ACTIVITIES
Community mobilisation to ensure same level of access, to programme products and services, to all households
Formation of the village committee and creation of the corpus fund
Training and capacity building of daily wage earners as masons and plumbers to build the necessary infrastructure
Construction of individual toilets and bathing rooms; water tank and water distribution system
Education and awareness campaigns on sanitation and hygiene to trigger behaviour change
Linkage of village committee with local government institutions
Building the capacities of the village committee to operate, maintain and sustain the infrastructure and ensure sustainability
Building the capacities of women and other marginalised groups in the village to take part in decision making process
RESULTS
5,830 households with toilets and bathing rooms

Piped water supply systems in 28 villages benefitting 1,552 families with round the clock, secured household water supply 

104 Village Water and Sanitation Committees (VWSC) formed

Corpus Fund of ₹ 51,14,000 raised by the VWSCs