Project Samrudhi
"Project Samrudhi" will enhance capabilities of communities to access livelihood opportunities in farm, non-farm and skill based service sectors. The project will supplement government programmes and strengthen the natural resource base, specifically through water management. Samrudhi seeks to ensure a 50% increase in income for 3000 households in three years.
The project aims to increase incomes through interventions in agriculture, horticulture, animal husbandry and skill development and strengthen community-based institutions and groups.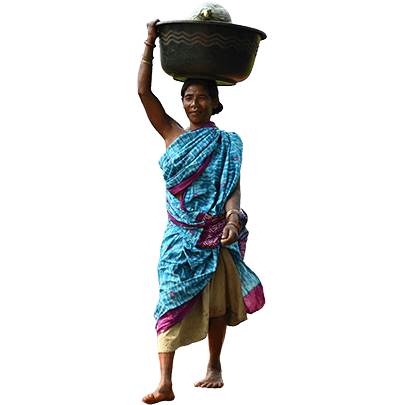 REACH
3000 households, 104 villages
REGION
Ganjam and Gajapati districts of Odisha
PROJECT STATUS
Ongoing
TIMELINE
July 2022 to September 2025
BUDGET
₹5 crore
PARTNERS
Bajaj Finance Ltd.
ACTIVITIES
Developing community-level education systems for strengthening the institutional, technical, and financial capabilities of the village development committees

Strengthening Farmer Producer Groups, Self Help Groups, Water User Groups, Goat Rearing Groups, and enterprise-centric women's collectives

Building irrigation systems and spring shed development to improve vegetable cultivation 

Promoting practices and infrastructure for the conservation of water for ecological and economic sustainability

Establishing Micro Weather Stations for climate-smart agriculture planning 

Using technological interventions for saving input management costs and enhancing incomes

Promoting low water input agricultural production by multi-cropping of cereals and pulses

Developing horticulture plantations

Providing trainers for every village to enhance goat production and survival activities for improved goat management 

Engaging with adolescents and youths to provide social capital and relatable role models, create space for curiosity and exploration, and encourage achievement motivation

Designing a skill development process to upskill migrant workers for better opportunities