Adivasi communities register for vaccination slots on CoWIN
Story
By Chandrika Patnaik
12 May 2021
COVID-19 vaccination sign ups pick up in Adivasi and rural areas of Odisha and Jharkhand as community volunteers with smartphones reach people in their habitations and villages for CoWIN registration.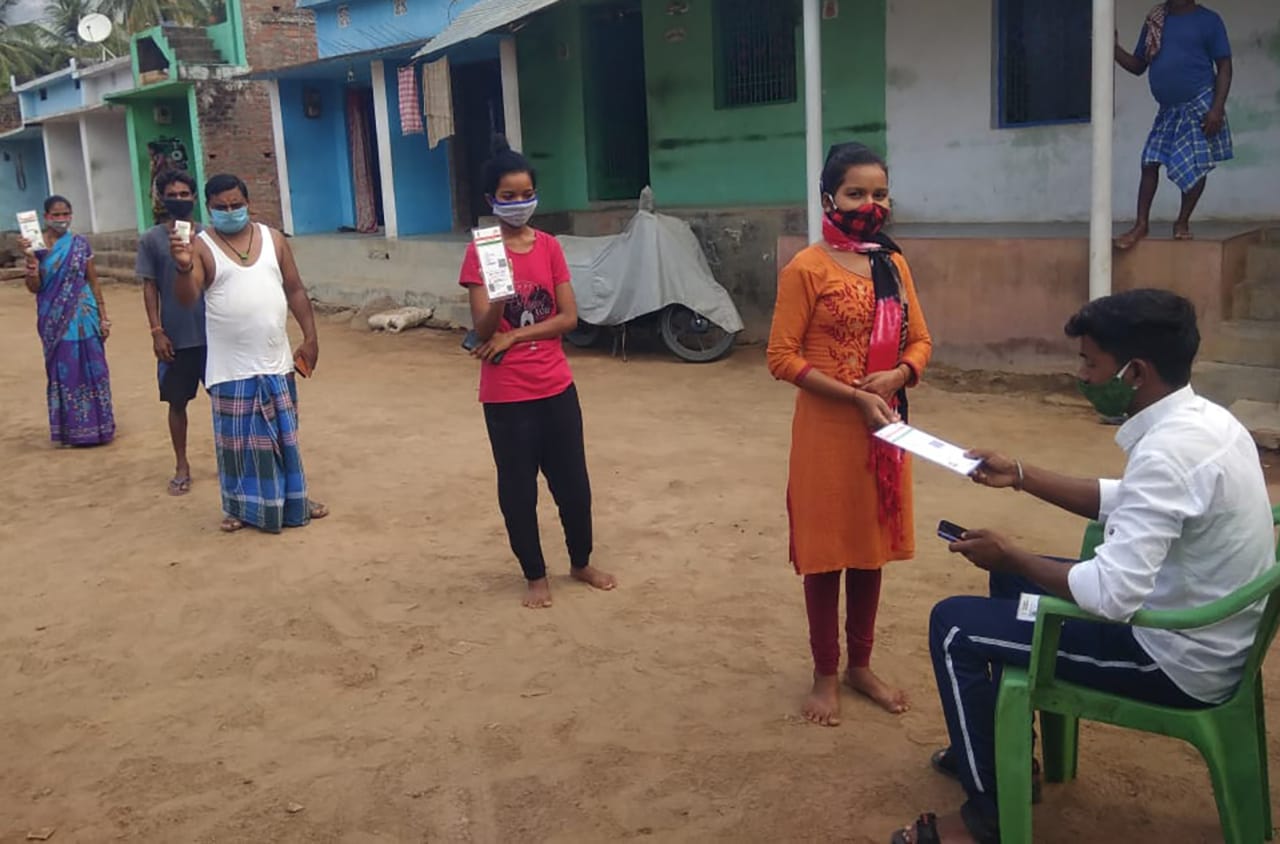 Niranjan Samal, a Vaccination Volunteer of Nuagaon is helping his village residents register for vaccination.
Photograph by Trilochan Jena
Many in the remote Adivasi habitations of Odisha are avoiding the COVID-19 vaccine because they think they will fall ill or lose their lives after taking the vaccine. Local governments and frontline health workers are working hard to dispel this misinformation. On 4 May, Gitanjali Sethy, the Chairperson of Gumma Block Panchayat held a meeting to take stock of the COVID-19 impact on the block. The meeting had participants from civil society organisations also. Gitanjali wanted to ramp up the vaccination drive.
Gram Vikas has been working in Gumma block in Gajapati district of Odisha since 1988. The Gram Vikas team apprised the panchayat members of the pool of activities they are undertaking as part of the COVID-19 Response programme. One of them is helping community members register on the CoWIN for vaccination. The panchayat expressed their full support for this initiative.
Building on community trust
On 6 May, Trilochan Jena from Gram Vikas reached out to the Village Development Committee (VDC) members of three tribal habitations of Lanjia Suara tribe from Raghunathpur in Rayagada block, and Nuagaon and Jagannathpur in the Gumma block. He spoke to them over phone, educating them about the importance of vaccination, and encouraging them to join the initiative to motivate their village community to register for vaccination.
Gram Vikas' deep and long connection with the communities, and the trust built over the years helped get the buy-in soon for the programme. Within two days, each of the VDC members selected four volunteers in their villages to help its residents, between the age group of 18-44 years, from 149 households, register online for the vaccination.
Karunakara Bhuyan, a VDC member of Raghunathpur village, is one of the committee members who helped mobilise the volunteers. An early adopter of vaccination, he got his first vaccine shot on 17 April at the Community Health Centre in Rayagada block. Talking about travelling ten kilometres from his village to get the vaccine, Karunakara says, "Earlier I was hesitant to take the shot. After seeing the ads put out by the government and discussions by doctors on the COVID-19 vaccine on TV, I realised that the government had done many trials before introducing the vaccine to the common public. When I was convinced, I decided to take the first shot. I am absolutely fine. Today, I am standing here to register my wife, Sabita Bhuyan, for her first dose of the vaccine on CoWIN with the help of these volunteers."
Harnessing community capacities
The Jana Seva Kendras (JSK), or the Rural Service Centres which provides the vaccination registration services is between six to seven kilometres from these villages. There are many difficulties that disincentivise the village residents from reaching these centres. Jakia Bhuyan, a VDC member of Nuagaon and a vaccination volunteer elaborates on the issues, "There are many people in our village who do not own a vehicle, nor can they afford to hire an auto rickshaw or walk the entire distance to the Kendra to register. Also, these Seva Kendras remain crowded and there is always a risk of getting infected."
As part of the vaccination drive programme, those individuals who own a smartphone and know how to use it are chosen as volunteers. The Gram Vikas team then trains them on using the CoWIN website. The training done over a phone explains in detail the steps involved and the volunteers learn through practice by registering themselves. Those volunteers who learn fast then help their peers in their villages. "I helped a young man who is a volunteer with a few registrations online on his smartphone and now he can do it quickly by himself.", says Jakia.
Taking health service to the people
The four volunteers choose different outdoor locations in the village so as to cover all the households. They sit at an outdoor spot for a few hours in the mornings, afternoons and evenings so that people can reach them at their convenience. Jakia says they insist on following the safety protocols, "We are following COVID appropriate behaviour while registering and asking people to wear masks and maintain a distance while standing in the queue. On the first day, twenty people came forward to register their names through our volunteers. We hope the numbers will increase in coming days, since we are also creating awareness about the safety of the vaccine and encouraging people to come forward and register."
Niranjan Samal, another volunteer from Nuagaon says they are trying to dispel all kinds of misconceptions about the vaccine and motivating residents to come forward in large numbers to register their names. "Not everyone here  owns a smartphone. So providing such services in the village itself saves people from travelling to kendras far away and spending the entire day standing in queue to register. Here in the village, we have kept flexible timings so that each and every person in our village of 18 years and above can find a time suitable to them and register their names for the vaccine. All this has been possible because of the initiative taken by Gram Vikas and our VDC President, Madhav Mohan Dhalei. He was one of the first who got vaccinated from our village more than a month back."
The difficulties in registration are not very different elsewhere. For instance in Mayurbhanj district, the Jana Seva Kendras are located between 8 to 11 kilometres from our partner villages. Bhima Charana Mahanta, a VDC member and volunteer, in village Badapheni in Mayurbhanj district says, "Our people here are not ready to travel so far and spend the entire day standing in long queues to register. They are happy we have decided to help them register in the village itself."
Reaching half a million people through our vaccination drives
As part of the COVID-19 response programme, Gram Vikas started the vaccination drives on 10 May. Volunteers across 51 habitations in 26 Gram Panchayats have so far registered 549 persons as of 12 May.
We will reach nearly half a million people in 1500 habitations across 12 districts with our vaccination drives.
Gram Vikas' COVID-19 response programme is multi-pronged as marginalised communities struggle with interlinked issues of health, life, livelihoods, food, mental health because of the pandemic.
The components of our response programme include (a) supporting frontline health workers and the government to spread awareness on COVID-19 safety measures, (b) establishing care/ quarantine centres for returnee migrants, and positive patients from the villages, (c) supplying essential medicines kits with oximeters to families or villages for health monitoring and care, (d) partnering local governments and hospitals for people to get timely and needed care, (e) registering community members on CoWIN for vaccination, (f) ensuring food & essential materials to prevent hunger, (g) linkage to PDS, pension and MGNREGS entitlements, (h) supporting farmers for Kharif crop (i) ensuring access to food & accomodation at destination states for migrant workers, (j) ensuring their safe travel back to the villages, (k) operating the Bandhu helpline for grievance redressal, and (l) providing counselling for critical mental health support to children.
You can support our ongoing response work here: COVID-19 RELIEF FUND FOR HEALTH & LIFE SECURITY
Residents of Raghunathpur village wait to register themselves online through Vaccination Volunteers in their village.
Photograph by Trilochan Jena
ACKNOWLEDGEMENT
Trilochan Jena, Baccha Panna, Deepak Mohanty did the field reporting for the story. Priya Pillai edited the story.
ABOUT THE AUTHOR
Chandrika Patnaik is a Junior Manager, Communications, at Gram Vikas.